Homeless Shelter Under Fire at Emotionally Charged Meeting
We are part of The Trust Project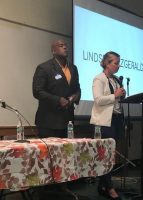 Intense fury was ignited last week among residents when members of Caring for the Hungry and Homeless of Peekskill (CHHOP) hosted an informational forum on the controversial relocation of the Jan Peek House Shelter in Peekskill.
The controversy surrounding the homeless shelters relocation only grew as CHHOP officials and their architectural team aimed to inform residents on the project last Wednesday at the United Methodist Church. Throughout the two-hour forum, residents and business owners who live and work near the proposed relocation site took issue with the project and CHHOP's lack of transparency in consulting the town.
"This building when it changes to the next ownership, if it goes through, will destroy my business," said Brian Dee, owner of Brian's Automotive, located adjacent to the proposed relocation site. "Nobody has even spoken to me about this before."
Dee added that his customers have voiced concern with the relocation stating that they would not come back because "they don't want their vehicles next to the type of people who stay at a shelter." He also cited how the architectural plans will severely cut into his property restricting him from doing business adequately.
"I might as well save a bed for me and my family in this place because that's where I'm going to end up," Dee said. "I put 20 years of sweat into the property and into this town and into this neighborhood and I do not want that taken away because some people think this is the right place and it's the building that fits their needs."
CHHOP is currently proposing relocating their year-round, 24-hour shelter for homeless adults in northern Westchester to 851 Washington Street. The shelter, which has operated on 200 North Water Street since 1988, is planning to move in 2020.
CHHOP representative Lorenzo Dominguez said their building has been in legal foreclosure since 2016 and the building was set for sale last Thursday.
"We need a stable and secure location to ensure that we can continue our mission to serve the people who come to live at Jan Peek House," Dominguez said.
The building on Washington Street was purchased by CHHOP for about $900,000 and is in dire need of expensive repairs and restorations. Besides needing approvals from the city's planning and zoning boards, they need a special use permit from the Common Council.
Dominguez said the new location would provide a safer environment for residents to ensure they stay on the premises. He said residents will be provided with dorm-style rooms, a kitchen, and a common area for programs and emergency services during the day.  Currently, residents must leave the shelter at 6 a.m. on most days because CHHOP does not have space to accommodate them.
Other plans for the new facility include moving the entrance to the back of the building, as well as creating a covered outdoor and enclosed space. Project architect Duo Dickinson added that several locations were considered, but the building on Washington Avenue has positive and very sensitive aspects that provide enormous flexibility for design.
With civility during the forum a concern for CHHOP, officials at the start of the meeting established guidelines and lectured the standing-room-only crowed on the principles of constructive dialogue. They also enlisted company Simple Knowledge to serve as watchdogs for those who created tension during the forum.
However, CHHOP's goal of sustaining positivity was quickly shattered when officials and Simple Knowledge members tried to silence an opposing community member who was invited by CHHOP to speak during the meeting.
Lindsey Fitzgerald, who is spearheading a petition to stop the relocation, said she was asked to speak at the meeting and was never given a time limit. But six minutes into her critical remarks about the relocation, she was given a 30-second warning to end her speech to which residents sparked outrage.
Fitzgerald said she spoke to CHHOP officials prior to the meeting informing them she would have a roughly 10-minute speech. Fitzgerald's remarks came after five presentations by CHHOP board members and Dickinson – none of whom were cut short.
Fitzgerald was then told she would have an opportunity to finish her statement but was cut-off again almost two minutes later. After being told the forum needed to move forward to the question and answer portion, Fitzgerald said she was representing almost 800 people who signed her petition. While she continued her remarks, Simple Knowledge member Richard Griffiths hovered over Fitzgerald, whispering to her as she spoke and eventually taking the microphone from her.
When she asked if CHHOP would consider finding an alternative location to the project, CHHOP Executive Director Cynthia Knox refused to answer, resulting in Fitzgerald and more than 50 residents leaving the meeting an hour before it was scheduled to end.
Residents in support of the project complained as community members left the meeting, but Fitzgerald said it was a waste of time for them to be there if CHHOP wasn't going to consider their concerns.
"The inappropriate way CHHOP treated me confirms they have no intention of working with residents," Fitzgerald said. "Nothing makes it right to have a large man hover over me in an intimidating manner to get me to stop speaking for my community."
While supporters of the shelter stressed the need to provide housing to the homeless and insisted there wouldn't be any safety concerns to the neighborhood, those in opposition said having the shelter in a residential neighborhood would reduce property values and could pose a threat for children.
"I don't know how this decision to go on Washington Street was made without public input," said George Ondek. "It is a neighborhood of many older homes, young children and people of Peekskill."
Residents cited that the current shelter made roughly 100 phone calls to the Peekskill Police Department in one year. A CHHOP representative said 44 of the calls were due to medical issues.
"The people who live on Washington Street and the surrounding side streets deserve to be treated better than they are being treated," George Sinzer said. "They deserve to have a safe environment for their children and their children's children."
CHHOP is scheduled to host another forum next month.