Home Guru: The Chandelier's History: Basic Function to Decorative Beauty
We are part of The Trust Project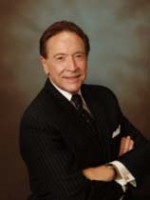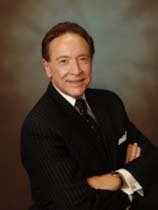 By Bill Primavera – One big question mark remains in the decoration of the great room of our new home and it doesn't seem likely to be answered anytime soon. That is the choice of chandelier to be hung in our dining area.
For the first time in our long marriage of agreeing over most things that surround us, my wife Margaret and I are not in accord about what device of illumination should hang above our heads as we entertain guests at a good meal. Right now, there is just a small ceiling fixture that came with the condo that provides light from the nine-foot high ceiling above, but just empty space from there to the table top, with nothing decorative to fill the space in between.
Margaret wants something airy and simple, but is not sure what. I know exactly what I've wanted for a long time and it's not simple.  It's a knock-off of the "constellation" type chandeliers created in 1966 by Hans Harald Rath for the Metropolitan Opera House at Lincoln Center.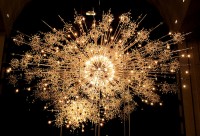 They feature central round metal orbs that look like "sputniks" from which metal rods radiate with sparkly moons and satellites spraying out in all directions, laden with Swarovski crystals. The effect is really dazzling. From the time I first saw them in the lobby and auditorium, I was transfixed. I remember reading that they were designed to symbolize the opera company's transitioning from the Gilded Age to the Space Age in its new home.
Just recently I discovered online that there is a facsimile available, but it seems that Margaret wants something a little more down to earth rather than a starburst from outer space orbiting over her head. In the past, when we lived in historic homes, choosing chandeliers was always a simple matter, with our having gone toward the 18th century designs found in Colonial Williamsburg.
The idea of a device shedding light from the ceiling goes back as far as the Middle Ages, first as a matter of practicality, but it wasn't long before chandeliers came to represent prestige and power.
Early in the 14th century, the first chandeliers were made of wood and iron in a wooden ring, designed like a crown, and intended to be moved from room to room. These simplistic devices could have one or many wooden arms with small iron plates upon which a candle would rest. The device would be connected to a chain, which could be hung from the ceiling of a great hall or, more often in churches, when they would have been adorned with religious iconography.
By the 15th century, chandeliers were utilized by the wealthy to demonstrate their power and status, and that is when different designs were created to show the individuality of the various palaces and houses of nobility, clergy and merchants.
The arms of chandeliers adopted curves and many more candles into the design by the 18th century and they were beginning to be placed in the homes of the working class as well as the upper class. At the same time, Greek and Roman influences became popular, along with production from cast metals.
Also in the early 18th century, the crystal chandelier was introduced by Bohemian and Venetian glassmakers. By the time crystal chandeliers were hung in the Hall of Mirrors in the Palace at Versailles, they had become a magnificent art form that continues to impress to this day.
The mid-19th century saw a revolution in chandelier production with the introduction of gas lighting, replacing candles. By the 1890s, with the introduction of electric light, chandeliers became truly free for artistic expression from the most reasonably priced that you might find at Home Depot to the most expensive at decorators' showrooms.
It's interesting to note how much lighting fixtures that hang from the ceiling can influence the perceived value of a home. The owners of the last home I listed, now in contract, retained a home stager who suggested that all the chandeliers be updated with moderately priced, more contemporary looking designs. That one recommendation made a significant difference in updating the entire look of the home's interior.
As for the choice of chandelier in my dining room, let's just say it's a work in progress.
Bill Primavera is a Realtor® associated with William Raveis Real Estate and Founder of Primavera Public Relations, Inc., the longest running public relations agency in Westchester (www.PrimaveraPR.com). His real estate site is www.PrimaveraRealEstate.com, and his blog is www.TheHomeGuru.com. To engage the services of The Home Guru to market your home for sale, call 914-522-2076.