Home Guru: Streaks and Moss on the Roof? How About a "Roof Shampoo?"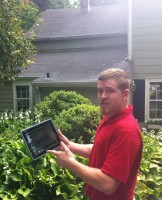 Isn't it a great feeling to shampoo your hair and have it be clean and shiny again? You can give your house the same treat.
Funny how problems and solutions sometimes come together. I had been noticing some dark vertical stains developing on the north side of my roof, and it seemed to happen over a short period of time. What IS that, I thought?  Then, I noticed some whitish spots taking hold here and there on the shingles, and finally patches of green moss sprouting out.  I'm under attack, I thought.
Then, driving around in my neighborhood, I found another roof with the same problem on a relatively new house, then another and another.  In each case, the problem made the house look old and uncared for.
Soon after, I was watching the local news on TV and one of Mark Franzoso's commercials came on for Franzoso Contracting.  I was absorbed in some work, but one phrase popped out when he said his company now offered a "roof shampoo." Cute, I thought. Even though I had never heard the phrase before, I knew instantly that it was what I needed for my problem.
The next day I called Franzoso and made an appointment to learn more about the process.
In short order, a young representative from Franzoso named Kevin Singleton showed up and walked me through a great presentation on his iPad which described the problem and how it was to be remediated. There were many photographs as he scrolled though, and a video. It's really neat the way the home improvement industry is moving more to technology to market its services.
"The purpose of a roof shampoo is to remove algae, lichen and mold and have it look new," Singleton said, "but more than that, algae can eat away at the granules of the shingles as it continues to grow and, besides the staining it causes, it prematurely ages your roof."  I know it sounds superficial, but I was as concerned about the look of algae than what damage it might be doing.
Singleton told me that it's a normal thing to have algae occur where there is less sunlight, either on the north or west side of the house, or if a house is heavily shaded by trees.
Eager to sign on, I was assured of certain safety issues that are employed by the Roof Shampoo systems. While some people or contractors might use bleach to get rid of algae, this technique uses a cleansing product that is biodegradable and environmentally friendly, not harming any vegetation or surfaces that surround the house.
The day of the cleaning, the liquid was sprayed on by workers who were harnessed from the top of the roof for safety. The liquid didn't need any "dwell" time but, rather, was immediately scrubbed with a state-of-the-art device that looked like a large vacuum cleaner descending from the top to the bottom of the roof surface. I was told that it featured a low pressure system that ensures a gentle and safe rinsing away, with a circular motion, without removing the granules from the shingles
Within a couple of hours, the roof looked like new.  Gone were the black streaks of mold, the white splotches of the lichen, and the green moss.  The process carries a warranty against any roof staining for a period of a year.  Also, there is an annual preventative treatment available where Franzoso will return once a year to apply a special spray on, leave on treatment.  Every consecutive year of participation extends the warranty for an additional year.
Mark Franzoso later told me that when this system is contracted, he will do a free 10-point inspection of the entire roof. On my roof, they found that the "boots" around my vents needed to be replaced. "It's funny, but roofers will put on a roof that lasts 30 years, but normally the boots have only a 10- to 12-year life and need to be replaced," he said.
As Franzoso and I watched the process being done high above our heads, he said, "Trust me, when they are finished, you're going to see the 'wow' factor of this work."  And, indeed, when the roof dried from its shampoo, leaving a roof surface that looked brand new, I did say, "wow."
If your roof is looking dreary and needs a shampoo, call Franzoso Contracting at 914-271-4572. I promise, you'll say "wow" too.
Bill Primavera is a Residential and Commercial Realtor® associated with Coldwell Banker, as well as a publicist and journalist who writes regularly as The Home Guru. For questions about home maintenance or to engage him to help you buy or sell a home, he can be emailed at Bill@TheHomeGuru.com or called directly at 914-522-2076.