Home Guru: A Toast to Landlords and Tenants: Should They Ever Meet?
We are part of The Trust Project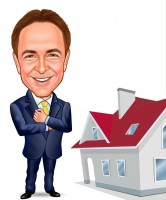 Ah, landlords, you gotta love 'em. And tenants love 'em, too. Considering some of the horror stories we hear, witnessed by the number of landlord/tenant dispute advisory websites, should they ever meet?
Mostly, it would seem that landlords and tenants have every reason to love, or at least like, each other, especially in today's rental market that has become so hot for landlords and now so competitive for renters. That was not the case in the boom years where everybody wanted to own their own homes and, with subprime mortgages, had the opportunity to do so, at least until the bubble burst.
The situation is different now that the national percentage of those renting has spiked more quickly than ever in our lifetime. Despite the lowest interest rates since the 1960s and the dramatic decrease in real estate prices, analysts predict that the percentage of renters will continue to increase for the foreseeable future.
Presently, 33 percent of Americans rent, up a significant 2 percent in just the past five years. Here in New York City's northern suburbs, where 68 percent of housing units are occupied by renters, it's more difficult to determine the percentage of renters. Because so many apartments are tucked into single-family dwellings, some legally, some not, the statistics go mostly unreported, save for applications in some towns for accessory apartments.
There are basically two types of landlord/tenant models: one where the renter knows the landlord only as an arms-length corporation or management company, and the other, where the tenant and landlord know each other quite well, especially when the rented space is in the landlord's home. Both models have their benefits and disadvantages.
On the positive side for the individual landlord, even one who rents just one accessory apartment, it's a good way to earn extra income. For the renter, it's a way to find shelter in a community that's perhaps convenient to work where he or she may be unable afford a home.
When I lived in New York City as a young man venturing into the world of business while seeking an active social life, I went from pillar to post as a renter. I started out in a large, new apartment building with hundreds of units, where two friends and I could only afford a studio. Because we each had a very active social life, that kind of dormitory arrangement lasted for less than six months. Having signed a two-year lease, we were able to go our separate ways by slinking out in the middle of the night with no notice to the landlord. No one came after us because the tenant/landlord relationship was not a personal one.
Looking back on the many landlord/tenant relationships I've had over the years, there are many stories of human interest to be told, enough to fill a book. For space, I'll relate just two, one as a tenant and the other as a landlord.
After leaving the dormitory setting and roaming to at least three other apartments in less than two years, I finally found a nice one-bedroom apartment in an historic home in Brooklyn Heights, where the first floor was occupied by an antiques shop owned by my landlord, a woman named Diana, a former Ziegfeld Follies girl. Diana lived on the second floor, her mother lived on the third and I was on the fourth.
In the days when apartments were easy to come by and I was considering several, Diana offered me a rent that was well below asking. I later learned from a neighbor in whom she confided that she did that because she thought I was a "good looking" guy and wanted me as a tenant. But an almost possessive relationship developed on her end that was most uncomfortable for me. She monitored everyone who visited my apartment, how long they stayed and would ask the next morning why it was necessary for anyone to take a shower and disturb her sleep while they were there.
When I met the love of my life and decided to marry, I informed Diana that we would be staying on as tenants, but that was not to be. In turn, she announced that the rent would be raised 100 percent to "pay for the extra water."
In the years that followed, from the time I bought my first house in the city, I have always looked for and purchased properties with the added bonus of rental income. There are many stories, most wonderful like a tenant couple asking us to help them name their first child, to those few horrors, like the time our boiler malfunctioned and flooded our tenants' apartment. Even after we remediated the situation and paid for new furniture, the couple would ask us almost every day, "Will our apartment be safe today?"
Bill Primavera is a licensed Realtor® associated with Coldwell Banker and a lifestyles columnist who writes regularly as The Home Guru. For those seeking advice on home maintenance or who want to buy or sell a home, visit his website, www.PrimaveraHomes.com, or call him directly at 914-522-2076.