Home Guru: The Freedom of Going Stark Naked (With Windows, That is)
We are part of The Trust Project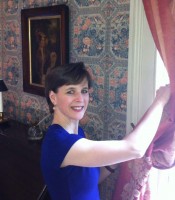 By Bill Primavera
"Oh, no!" I exclaimed when I came home one evening to see the monstrosity of a commercial sign that had been installed directly across the street from our townhouse in Brooklyn Heights.
It was a large glaring light box with the name "G. Marcolini & Sons Wine & Spirits," so outsized that it actually reached a few feet over to the building next door, which the family also owned. The sign lit up the entire block.
Like a wild man, I ran across the street into the store and accosted old man Marcolini, asking how he could perpetrate such an outrage in New York City's first historic neighborhood. Being no slouch himself, he responded with a few choice Italian expressions, which I didn't fully understand but got the general gist. We never spoke again.
That sign was in direct alignment with the main rooms of our house: the living room on the first floor and our bedroom and sitting room on the second floor. To deal with the explosion of light in the evening hours, we re-dressed our windows like Fort Knox. On the first level we installed solid wood interior shutters, which we closed as soon as the sun went down. On the second floor we had heavy blackout shades and equally heavy brocade draperies.
Having lived that way for several years, when my wife and I moved on to Westchester's greener pastures it was almost an automatic response for us to approach our window treatments in similar fashion. We brought our wooden shutters with us, as well as our heavy draperies, and were all set for privacy in the country, even though there is not another house that we can see from our house.
Through at least three hardcore home renovations and as many re-decorations, we started to peel back the defense mechanisms. It dawned on us there was no one looking back at us, with the possible exception of deer munching on our sprouting hosta, when we looked out at green lawns, our pool or the woods.
First, the windows in the wing that houses our professional offices were stripped of blinds and curtains, then the kitchen curtains went, then our bedroom's swags and jabots, although the blinds remained for light filtration in the morning.
The big, big step for us comes just this week when our pink brocade curtains in the living room, which date back to the Civil War and have seen better days, will come down and not be replaced.
Soon after we made the decision, I happened to be in the company of decorator/home stager Susan Atwell of AtWell Staged Home, with whom I am forming a professional relationship, offering her services to those clients whose homes I list. I asked what she thought about "naked windows."
"The framing of the window, especially if it is in contrast to the color of the wall, can be considered the frame of a picture," she responded. "Especially if you are staging a home, it's the window frame that is going to be staying with the house. If I am working with a house for sale, we just take the window treatments down. Window treatments, just like a light fixture, can date a home.
"I had a home where there was a beautiful picture window looking into the backyard. We painted the walls a deep green with a white trim around the picture window where the eye was drawn, and it looked beautiful," Atwell continued. "The frame of the window becomes the treatment, and it lets in the light. If you feel some softening is needed, perhaps something sheer like a panel on each side, can be used and that doesn't block light."
Of course, there are times when blinds, shutters and drapes are indeed required for privacy, but for those windows that enjoy views of nature and not neighbors, why not invite the outside in?
In response to that nasty sign that faced my former home, when I moved to Westchester, I joined my new community's architectural review board so that I could have some input into the way signage was developed. I wanted to make sure that we had good codes in place that regulate commercial signs and lighting that didn't need to be blocked out by all of us having to cover up our windows!
For decorating and staging services, Susan Atwell can be reached at 914-525-0454 or email Susan@AtWellStagedHome.com.
 Bill Primavera is a Realtor® associated with William Raveis Real Estate and Founder of Primavera Public Relations, Inc., the longest running public relations agency in Westchester (www.PrimaveraPR.com), specializing in lifestyles, real estate and development. His real estate site is: www.PrimaveraRealEstate.com and his blog is: www.TheHomeGuru.com. To engage the services of The Home Guru and his team to market your home for sale, call 914-522-2076.