We are part of The Trust Project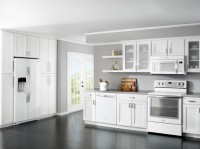 Just as my wife and I were congratulating ourselves for having created the most beautiful kitchen ever, eschewing white appliances for brushed steel and polished black, complemented by warm wood and state-of-the-art surfaces, we heard the bad news. The new thing is the "White Ice" kitchen. What's that, you say?
Right, white is back in, but it's the "new" white introduced by Whirlpool in its White Ice Collection of free-standing and built-in appliances.
So what is White Ice anyway, over and above just plain white? Like ice, it's simply a gleaming, almost mirrored surface that pops rather than recedes as with the usual sort of smooth or cobbled surface. An appliance in White Ice  indeed looks icy, luminous and reflective. It demands to be looked at.
The first piece I read on the new offering was on www.apartmenttherapy.com with the title "Will White Ice Replace Stainless Steel as the New Appliance Trend?" Soon after, I noticed that it was featured boldly in House Beautiful's Kitchen of the Year.
To find out if it had really caught on among consumers or was just manufacturer's hype, I called my friend Max Leahy at Atlantic Appliance in Yorktown Heights where we've bought all of our appliances to ask for the real skinny.
"The concept of White Ice is so hot that I haven't yet been able to stock one in our show room," Leahy told me.
In the cavalcade of kitchen trends, I guess it's time to say "next" once again.
The kitchen is the room most similar to the fashion industry in the way designers and manufacturers manage to convince us that a very utilitarian place where we satisfy one of our basic needs is out of date, even before our new wall oven needs its first self-cleaning,
It's amazing when you think that in less than 100 years we went from hearths, to Franklin stoves and dry sinks, to very utilitarian, very white appliances that were bulbous and ugly, to stylish enclaves that demonstrate conspicuous consumption and most reflect our need to keep up with the Joneses.
From the time the ice box was replaced by the refrigerator in the 1920s, appliances looked pretty much the same from year to year and were universally white. When those nasty hues of buff and green were introduced in the 1970s, we didn't care that they looked like consolidated puke and rushed out to buy them. Then for a while in the 1990s, white became cool again before brushed steel emerged as de rigueur for any self-respecting upgraded kitchen.
At the same time, we were trounced with incredible new surfaces for countertops and floors, rebuffing laminates and linoleum to the point where we might have feared that the world's stone  quarries would soon be exhausted.
But now, would you believe it, when it came time to install my kitchen floor, I passed up slate, marble or granite for a high grade vinyl tile to create a harlequin pattern that could not be produced in nature for purity of color. Some kitchen designers are again suggesting that laminate countertops be reconsidered.
Complementing the new White Ice trend are brushed steel handles and fixtures, and cabinet knobs can add bling with a nickel base and a pure crystal inset.
Among comments on blogs devoted to this hot new trend are: "It's a neatnik's dream–dirt has no place to hide," and "Throughout history, white has been associated with happiness and purity (think Snow White)." Could the Seven Dwarfs be far behind to "Whistle While We Work" in cleaning our kitchens for us?
The most compelling comment I found online about  the mixed use of silver or brushed steel with the new White Ice look is that it is inspired by the design of an Apple iMac. It would make sense that our surroundings would be influenced by technology. Soon, not only will we be spending all of our time on computers but, at least in our kitchens,  we will be living inside one as well.
Bill Primavera is a Residential and Commercial Realtor® associated with Coldwell Banker, as well as a marketer and journalist who writes regularly as The Home Guru. For questions about home maintenance or to buy or sell a home, he can be emailed at Bill@TheHomeGuru.com or called directly at 914-522-2076.