Home 'Built With Love' by Habitat Bestowed to Putnam Family
We are part of The Trust Project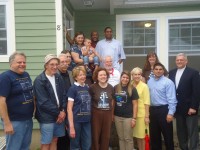 It was all smiles and tears of joy when the Putnam County Habitat for Humanity held a house dedication ceremony for the home constructed over the course of the last two years for the Jones-Man family in Putnam Lake.
As part of the ceremony, Charles Jones and Octavia Man, who held the married couple's toddler son, received handmade quilts and crocheted blankets, a tool belt, plants and gardening equipment and a Bible to mark the new ownership of their home that they themselves had contributed hundreds of hours to construct from the ground up.
In attendance were the local Habitat's Board of Directors, and Rev. Ken Mast of the First Presbyterian Church of Mahopac Falls who founded the local Habitat, a core group of approximately three dozen volunteers from throughout the county who contributed to the building of the home and local elected officials, including Town of Kent Supervisor Katherine Doherty, Putnam County Sheriff Donald B. Smith, Putnam Valley Town Supervisor Robert Tendy, of the municipality that will host the next Habitat project, and Town of Southeast Councilman Edwin Alvarez.
Jones emphatically thanked those gathered who had helped his family's dream of home ownership come true.
Brewster resident and Habitat volunteer Ed Rinde also recognized the labor provided by volunteers, as well as the professionals services, materials and fittings donated by local businesses.
"Volunteers don't get paid because they are worthless. It's because they are priceless," Rinde said.
Two of those volunteers are father-son team Peter and Adam Menken, who live in Stormville and who had been on the work site for the past two years building the house.
"We started on April 7, 2010 and we haven't missed a Saturday since," Peter Menken said, noting that that his son has plans to become a plumber and was recognized withPutnamCounty's 2011 Youth Award for the many hours he contributed to building the house.
Community members who are interested in getting involved in the next project, but worry they don't have the skills needed to construct a home, are still highly encouraged to participate.
Aside from the plumbing and the electrical work that must be done by licensed contractors, Habitat project foreman Steve Boeils said that everything else on the house was done by skilled and unskilled volunteers.
"You don't need skills to come and help. That is our responsibility to show you," he said.
Carmelresident Jim Mullen was one of a group of three dozen core volunteers who showed up consistently.
Mullen said that early this year, he was looking for a way to volunteer and stumbled upon Habitat. He called Boeils, who told him to come on over.
"I like working with my hands and doing projects around the house," Mullen said. "Habitat resonated."
He said Boeils talks to each volunteer, gauges their experience, explains what needs to be done and then lets volunteers get to work. He returns periodically to check in with them to answer questions.
"You are doing something good while you are learning something," Mullen said, adding that he's used his new skills to tackle some projects at his home. "You are giving something and you're getting something."
Habitat President Mary Rice said that when the organization seeks out a family who needs a home that they must meet certain criteria that when they move into the donated house they will be able to make monthly payments on an interest free mortgage held by Habitat, as well as pay their taxes, insurance and utilities, all of which cannot exceed one third of their income.
"We want them to succeed," Rice said.
And that deep experience of both giving and receiving resonated deeply with new homeowner Jones as he stood in his newly-christened kitchen.
"I'm overwhelmed. I'm grateful. I'm very excited to have the opportunity to be a homeowner," he said.
Working with volunteers to construct his own home was both a moving and fun experience, with lots of laughter and sharing of meals during breaks.
"It was humbling; that people had this time to invest in me," Jones said. "It's overwhelming and sometimes unbelievable that there are still people who are still so willing to give…it's hard to put into words."
Jones said he could go on and on talking about the individuals and groups, including the high school students from Brewster,Carmeland Mahopac, who helped to build his family's home.
"The kids came and worked like crazy," he said. "It was definitely built with a lot of love."
And when work begins on the new Habitat home inPutnamValley, Jones said he and his wife will be there.
"For the next project, we see that we can get up on Saturday morning and go help – help someone feel what I feel; which is complete," Jones said.