Holocaust Victims Remembered at Solemn Ceremony in White Plains
We are part of The Trust Project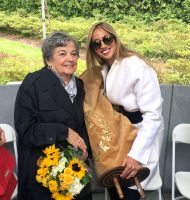 Hundreds gathered at the Garden of Remembrance in White Plains Monday afternoon to commemorate the Holocaust during this year's Yom HaShoah Holocaust Commemoration ceremony.
With the theme, "Keeping the Memory Alive: Generation to Generation," the Holocaust and Human Rights Education Center partnered with the Westchester Jewish Council to reflect and honor the six million Jewish people who were killed during the Holocaust.
A Torah procession of over 25 rescued Torahs that are housed in Westchester, a candle lighting ceremony and musical selections emphasized the solemn purpose of the gathering.
"Today we remember the six million Jews who were killed for the crime of being, of being who they were, for being Jewish," Rabbi David Holtz, President of the Westchester Board of Rabbis said. "Today we honor the heroes and the martyrs, the victims and the survivors."
Keynote speaker, Esther Geizhals of Larchmont, shared her story of survival after being sent to Auschwitz concentration camp in 1944 at the tender age of 14.
After arriving in Auschwitz with her mother and brother, her family was quickly separated as she was motioned to go right while the rest of her family was told to go to the left.
"I started to cry, I wanted to be with my mother and I started to run to the other side. Out of nowhere came an inmate who told me in Polish, 'Don't you dare move from here' and she stood and blocked my way," Geizhals said. "They took me into the house, they shaved my hair and they disinfected me with a powder. They took my clothes away and gave me one single garment, a dress that was two sizes too big."
After spending six weeks in Auschwitz, Geizhals was moved to two other camps, Bergen Belsen and Rochlitze in Czechoslovakia. In 1945, Geizhals managed to escape during a death march when eventually she was liberated by the Russian army.
As the war came to an end, Geizhals went back to her hometown with the hope of finding a surviving member of her family. She soon found her way from Poland to an American zone in Germany, where she was able to travel to the United States in Feb. 1947.
"People who are born in this country, don't really appreciate how wonderful our country is," said the 87-year-old survivor. "I'm here 70 years and I'm a very loyal citizen."
"If we had Israel in 1939, we wouldn't have lost six million Jews, who were killed because they were born Jewish," she added.
Congressman Eliot Engel, who spoke at the event, said he believes the best way to honor those who were murdered is to make sure the United States continues to show its support to Israel.