Historic Ryder Farm Holds Open House in Brewster
We are part of The Trust Project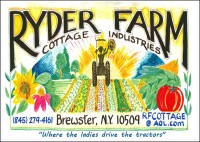 The only farm in Putnam with the distinction of still being owned and operated by descendants of its founder in 1794, Brewster based Ryder Farm on Starr Ridge Road is inviting the public to an open house as part of Putnam County's Bicentennial celebration from 11 a.m. to 4 p.m. this Saturday, Aug. 18.
Visitors joining in on the family farm day fun will have the opportunity to interact with representatives from local historical, agricultural, open space and 'green' affiliates whose information tables will offer promotional information on their businesses and activities.
House and garden tours will be offered, along with a petting zoo, a cake-cutting ceremony, a barbeque and staged and open mic performances.
There will be representatives from the Southeast Museum, the Putnam County Historian's office, the Putnam County Land Trust, Cornell Cooperative Extension of Putnam, Putnam County Historic Sites Commission, Putnam County Ag Protection Board, Putnam County Soil and Water, Putnam County Farm Bureau, EOH Watershed Ag, Slow Foods, NOFA NY, Space at Ryder Farm, and Ryder Farm Cottage Industries, Organic Growers, Inc.
While the farm is owned corporately by members of the Ryder family, Betsey Ryder and her husband, John, run the day-to-day operations.
Under their stewardship, Ryder Farm received its certified organic farm status, based on the fact that they plant their crops, flowers and herbs by hand, using only selected non-genetically modified seeds and natural fertilizers. Today Ryder Farm offers Community Supported Agriculture (CSA) shares in their harvest.
Ryder Farm is also a presence at the Union Square Greenmarket in New York City and the Brewster Farmers Market. Their produce can be found at area health food stores and gourmet grocers.
Purchased by Eleazer Ryder on May 5, 1794 for 400 pounds, the Ryder Farm homestead stretches across 120 acres and is nestled between Starr Ridge Road and the shores of Peach Lake. It consists of three main residences still used by Ryder descendants: "The Sycamores," the original farmhouse built by Eleazer and Mary Ryder in 1795; "The Cottage," the residence of John and Betsey Ryder; and the "Kay-Hall" house, home to Hall Gibson and his late wife, Katharine (Kay) Ryder Gibson.
Other structures include various outbuildings and greenhouses, a root cellar, and their popular self-serve street-side and year round farm stand.
For more information on Ryder Farm, 400 Starr Ridge Road, Brewster, NY 10509, visit their website at: www.ryderfarmorganic.com or call: (845) 279-4161.