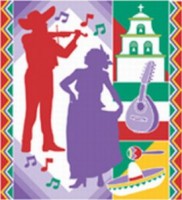 Alianza Latina invites you to celebrate Hispanic music, food and culture at Westchester County's annual Hispanic Heritage Day Festival.This grand event will take place on Sunday, July 20at the Kensico Dam Plaza in Valhalla from 12 to 7 p.m.
Activities at this year's festival will include folkloric entertainment, children's activities, international cuisine from over 21 Latin American countries and arts and crafts.In addition,nonprofit organizations such as social service agencies, educational institutions, and governmental departments will provide information about their services.
The Hispanic Heritage Festival has become one of the summer's biggest festival draws for the growing Hispanic community and the community at large. In past years, the event has attracted close to 15,000 people and an even more impressive turnout is expected this year.To arrive at the festival, take the Metro-North Harlem Line A to the Valhalla station. Kensico Dam Plaza is within walking distance of the station. Entrance to the festival is free of charge.
Alianza Latina is a partnership of four nonprofit organizations formed by El Centro Hispano Inc., Hispanic Resource Center, Neighbors Link and United Community Center. Alianza Latina is organizing the Hispanic Heritage Day Festival as a fundraiser for these four organizations, which all work for the betterment of the community. Services include immigration referrals, ESL & GED classes, technology literacy classes, scholarships, educational workshops, and more.
For booth or volunteer information call 914-630-1829, email Hispanicheritageday2014@gmail.com or visit www.hispanicheritageday.com.