Highbridge Voices to Sing Black History Month Celebration
We are part of The Trust Project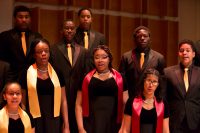 On Sunday, Feb. 18 at 4:30 p.m. Downtown Music at Grace will present a benefit concert featuring the Highbridge Voices—The Program includes African American Spirituals and songs of freedom, plus music of Gabriel Faure and J.S. Bach
The Chamber Choir, made up of 60 students in grades 7-12, is the premiere touring ensemble of Highbridge Voices. Singing an average of ten performances a year, the Chamber Choir performs throughout New York City, as well as in Florida, Quebec, and Washington, D.C. They have had the honor of performing at several high profile events, including the U.S. Supreme Court Historical Society's annual gala, and at the Major League Baseball Division Championship at Yankee Stadium.
As proof of how rigorous music training can transfer to other aspects of life, Highbridge Voices students consistently outperform their peers on New York State standardized Math and English language arts examinations. Since 2006, 100% of Highbridge Voices students have graduated from high school, and more than three-quarters of them have enrolled in college.
All ticket proceeds from the concert will directly benefit both Downtown Music at Grace and the Highbridge Voices.
A meet-the-artists reception follows the program. Downtown Music concerts take place at Grace Episcopal Church, located at the intersection of Main Street and Mamaroneck Avenue in White Plains. Parking is available at either the Church Street or City Center garage.
Tickets Premium seating $50, General Admission $30, Seniors and Students $20, Children 5-12 with parent: $5  Tickets are available at the door, by calling 914-949-0384 or online at www.DTMusic.org.