Heroes Celebrated, Loved Ones Remembered at Mahopac Relay for Life
We are part of The Trust Project
Thousands of participants will come together on Friday, June 2 in Mahopac to honor cancer survivors and their caregivers and to pay tribute to those for whom the cure did not come soon enough.
The American Cancer Society's Relay For Life event is designed to ignite the spirit of the community while raising funds that will applied locally to save lives, provide services to patients and their families, find cures and push for policies that will put an end to cancer. All are welcome to attend; those wishing to register for or donate to a team should visit relayforlife.org/mahopacny prior to the event. Guests can purchase luminaria bags to memorialize loved ones lost to cancer or to honor and support survivors through the website or via email at EricaM0309@gmail.com.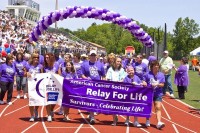 The American Cancer Society's Relay For Life of Mahopac is an overnight celebration where people take turns walking around a track "relay" style to raise funds to fight cancer.
This year's event theme is "heroes," for there are so many heroes in the fight against cancer – survivors, caregivers, doctors, donors and personal heroes.
Teams will honor their heroes by committing to having at least one member on the track for 24 hours, 7 a.m. Friday, June 2 to 7 a.m. Saturday, June 3.
Throughout the day and night, participants will have the opportunity to enjoy live entertainment, play games, place bids in a silent auction and feel the presence of their community as it works to raise money to fight cancer and support patients.
Not-to-miss highlights of the ceremony include the 12 p.m. opening ceremony directly followed by the survivor lap and luncheon and the 9 p.m. candle-lit luminaria service to honor cancer survivors and remember lost loved ones in an emotional silent ceremony. Survivors wishing to attend the complimentary luncheon must RSVP to Lillian Spost at 845-522-9781 or RFLMahopacNY@gmail.com.
The silent auction, featuring a wide variety of baskets and prizes including a dinner cruise and a fishing trip, will begin at noon and run until 8:45 p.m. Selected baskets and prizes can be purchased at an "I Want It Now!" predetermined price by those wishing to bypass the auction process.
Plenty of activities will be ongoing throughout the day for families and children; highlights include pony rides, jumping castles, a scavenger hunt, races, BINGO, craft projects, karaoke and Zumba. Parking and admission to all Relay events are free, and food and drink will be available onsite.