News Based on facts, either observed and verified directly by the reporter, or reported and verified from knowledgeable sources.
Hen Hud's Porter Carving Her Niche; Briarcliff Red Hot
We are part of The Trust Project
 By Tony Pinciaro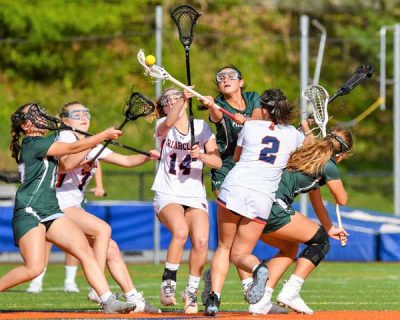 Madison Porter was hooked once she picked up a lacrosse stick as a first-grader. It was only natural she would start playing lacrosse, following the path created by older sisters Mackenize and Jordan (both attend/play at Missouri Western State University).
However, the HEN HUD senior and five-year varsity starter found her true position once she stepped in goal. Porter, with the help from her sisters, developed into one of Section 1's premier goalies, just like Mackenzie, who was a six-year varsity starter.
"I grew up playing all the sports and I had the option to choose something different, but something really kept me with lacrosse," said Porter, who will attend Eastern Michigan in September and also play lacrosse. "I was a field player my first two years. When I saw Mack playing goalie, I thought it would be a really fun position."
Opponents have not had fun playing against Porter, especially last week. Porter backstopped Hen Hud to three victories – a shutout of Brewster, 8-4 over a high-scoring Lakeland/Panas team and 8-7 over perennial Class A power North Rockland.
As Hen Hud closes out the regular season this week with John Jay-Cross River (Tuesday) and Somers (Thursday), the Sailors are a top contender in the Section 1 Class C Girls' Lacrosse Championship because of Porter.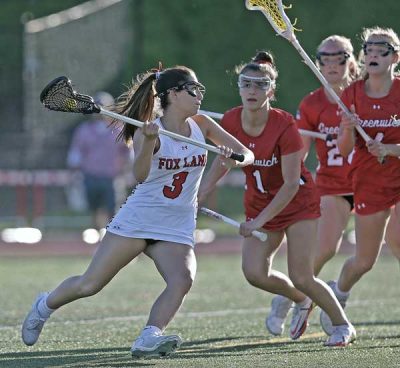 Porter is not bashful to credit her sisters' impact on her career. She has received the best of both worlds when it comes to Mackenzie and Jordan helping her. Mackenzie has worked with Madison in goal, while Jordan, who plays attack, shoots on her.
"Mack has given me lessons on my hard days and after bad games," Madison said. "She watches every game and helps me fix all of my mistakes. I also have learned from watching her and knowing that she will always call me and reassure me.
"Jordan has explained to me, pretty much, where attackers love to shoot, especially, off-side stick and stick high or low. When we were both in high school, we used to go to the field and Jordan would shoot on me in the hardest possible players, helping me to develop muscle memory to make those saves on those shots.
"It's amazing having older siblings to look up to. Mack and Jordan are truly my role models."
When it came time to consider colleges to attend and play lacrosse, Porter admitted Missouri Western State was the first recruiting call. She thought about it before choosing Eastern Michigan in Ypsilanti, approximately 30-45 minutes from her maternal grandmother.
"I'm known because of my sisters, so I want to start my own legacy," Madison said. "I love my grandma so I'm very excited about having her come to my games."
When the 2024 Hen Hud girls' lacrosse season occurs, it will mark the first year since 2011 that a Porter sister will not be in uniform.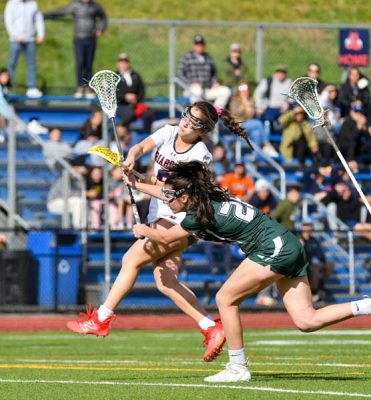 "It's just crazy, but also amazing to have a lacrosse legacy at Hen Hud," Porter said.
Porter noted the three wins were nice, especially the one over North Rockland because her defense stepped up and played air-tight.
"It was a rough start to the game because we did give them a little bit of a lead, but our offense stepped it up and my defense held it down," Porter said. "My defense really pushed the ball to angles. That helped me out on shots because it gives the goalie the angles that are easy to save.
"My defense created a lot of turnovers. Our team has a pressure defense that gets to a lot of teams."
Hen Hud coach Rob Molfetta agrees with his goalie.
"Our defense played really well in all of the games and the offense is scoring big goals when we need them," Molfetta said. "Madison has been outstanding in goal for us."
BRIARCLIFF continued rolling through the regular season, improving to 14-1 with victories over arch-rival Pleasantville (13-11), Pearl River (16-11) and Putnam Valley (14-4).
Freshman Nicky Einhorn is having a monster freshman year, scoring four goals against Pleasantville. Riley Hite and Adrianna Scanga each had a hat trick. For Scanga, it was her 100th varsity point. Ava Swidler added two scores.
"This was an extremely competitive game because I feel like their team is very similar to our's in that they have well-rounded talent," said Bear senior captain Paige Krsulich of the Pleasantville game. "We knew we wanted to win so we knew we had to play the lacrosse that we had been practicing and preparing. Our coaches prepped us well and reminded us to just go out and play 50 minutes of great lacrosse."
Einhorn achieved a milestone against Pearl River. Her fifth goal of the game was her 100th varsity goal.
Hite rang up four goals, Scanga added two goals and three assists and Margot Flores netted two goals. Diana Jones chipped in one goal and two assists.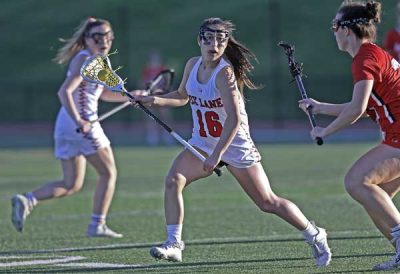 Briarcliff completed its sweep of the week over Putnam Valley as Scanga scored four goals.
Einhorn moved her varsity total to 102 career goals with two more and she registered three assists. Georgina Janos and Jones had two goals apiece and Abby Healy and Swidler each had one goal and one assist.
Briarcliff has been consistent in all facets of the game, especially offensively. Krsulich attributes this to team comradery.
"Almost every single girl on the field has played together since last year so we have learned so much about each other and adapted to each others' strengths and weaknesses," she said. "That chemistry has allowed us to come out with so many wins against talented teams this year."
Top-seeded Class D Briarcliff (14-1) closes out the regular season this week with Croton.
WESTLAKE gave Coach Dan Smith his 100th varsity win in a 14-6 victory over Croton.
Maeve Walsh had a hat trick and Shaina Picucci, Jillian Raguso, Francesca DeMartino and Sami Oswald each had two goals. Picucci also rang up six assists.
The Wildcats dropped a 9-8 verdict to White Plains despite five goals from DeMartino and two from Walsh.
HALDANE had the best week in program history, winning four games – Dobbs Ferry (15-12), Keio (18-4), Edgemont (15-14, OT) and Rye Neck (16-8).
The Blue Devils are 8-6 and finish the regular season this week with two games.
"As a team, the girls played really well and cohesive," Haldane Coach Keri Dempsey said. "Everyone knew their role on the field and played them with intensity and skill. Overall, I'm very proud of the girls who swept the week."
Mairead O'Hara scored four goals and Kayla Ruggiero contributed a hat trick against Dobbs Ferry. Caroline Nelson, Ellen O'Hara and Samantha Thomas each had two goals.
In its season-high 18-goal game against Keio, 10 players found the net led by Anna-Catherine Nelson and Ruggiero with a hat trick apiece.
O'Hara added two goals and two assists and Carmela Cofini, Helen Nicholls and Martha McBride scored two goals apiece.
Sami Thomas scored the game-winner against Edgemont after the Panthers forced the extra session.
"The girls pushed themselves extremely hard that game, after having a game the day before," Dempsey said. "They knew they needed to fight and come out with intensity and they absolutely did that. It was a well-fought game for both teams."
MAHOPAC had a rough week with two losses, but the Indians secured their win by ruining Senior Night at Lakeland/Panas.
Katie Watts scored a season-high six goals in a 17-7 setback to Somers.
Ashley Koch and Watts had four goals apiece at Lakeland/Panas. The four goals were a season-high for Koch, a freshman. Julianna Mangione and Riley Massett added two goals apiece.
Mahopac Coach Christina D'Amore cited the play of Adrianna Pranzo, who finished with eight draw-controls and freshman goalie Amanda Carey, who made eight saves.
Clarkstown North rallied late to even the score and win in overtime, 10-9.
"We were up, 9-6, with only a few minutes left, unfortunately, there were calls and yellow cards given out leaving us man-down for the remainder of the game," D'Amore said.
Koch led Mahopac (6-7) with three goals, Watts added two and Pranzo had two assists.
SOMERS split two games, winning Senior Night, 17-7 over Mahopac, but dropping a 13-9 verdict to nemesis John Jay-Cross River.
"We had a very special night honoring our four outstanding seniors," Somers' Coach Deb Daly said. "Their teammates made their entire day special with gifts and notes honoring them.
"They finished with a win against a well-coached Mahopac team. Although they play different positions and Maddie (Lyle) and Victoria (Olson) play defense they each had an opportunity to score."
Somers, 8-6 this season, close out the regular season this week with Yorktown and Hen Hud.
YORKTOWN had two players hit milestones in its 18-8 win over Brewster as Alex Scialdone registered her 200th varsity point and Maggie Appelle made her 200th varsity save.
Scialdone finished with two goals and three assists and Appelle had four saves before giving way to Annie Durante.
Brie Gaccino led Class B Yorktown (10-4)with four goals, Maeve Ryan had a hat trick and Kate Regan (six draw controls) and Annie Cunneen each scored twice.
Gaccino and Scialdone finished with two goals apiece in a 12-6 loss to Suffern.
Sofia Boucher added a goal and an assist and Gianna Altimari recorded five draw controls.
LAKELAND/PANAS was 0 for 2 last week – 8-4 loss to Hen Hud and 13-11 loss to Mahopac.
The Rebels (7-8) were held to a season-low four goals by the Sailors. Katelyn Kuney scored twice and Clare Warren had a goal and an assist. Kaelen Sieja made 13 saves.
Lakeland Panas bounced back offensively against Mahopac as Brooke Pizzarello had four goals and an assist. Isabel Kocaj posted a hat trick and Maddie DiMirco netted two goals.
PLEASANTVILLE lost to archrival Briarcliff, 13-11, then came back two days later and beat Irvington, 13-11.
Gianna Doto led the Panthers (9-5) against Briarcliff with three goals. Faith Brown scored twice and Erin Drillock and Ella Collins had one goal and one assist apiece.
Cadence DeLuca and Faith Brown each finished with four goals and Collins registered a hat trick. Drillock registered five draw controls and goalie Ciara McCarthy made eight saves and scooped up three ground balls.
BYRAM HILLS won its game – 8-7 over Harrison – last week.
Anastais Byrnes, Keira Eckhardt and Lucianna Parrotta each netted two goals for the Bobcats (8-5). Samantha Gershuny finished with six saves.
WHITE PLAINS made Senior Day memorable with a 9-8 win over Westlake as Vogue Friend scored three goals for the Tigers (5-9).
Lizzy Armogida and Sophia Gould each had two goals and an assist and Hailey Shannon assisted on two goals.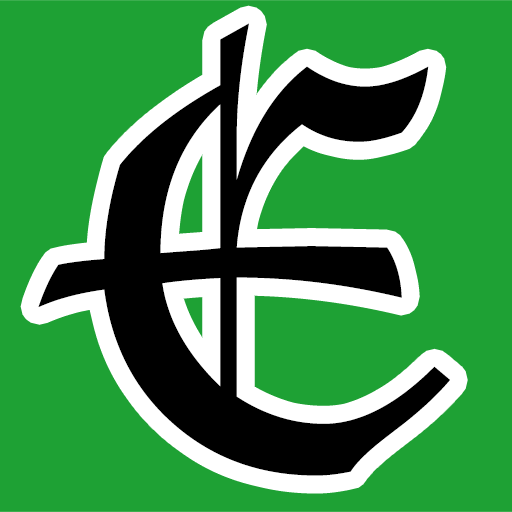 Examiner Media – Keeping you informed with professionally-reported local news, features, and sports coverage.