News Based on facts, either observed and verified directly by the reporter, or reported and verified from knowledgeable sources.
Hen Hud Snags 11th NYS Regional Title, Lakeland Falls Short
We are part of The Trust Project
By Tony Pinciaro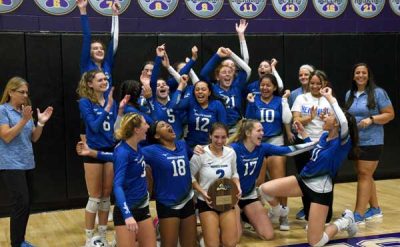 Following set two of its New York State Class B regional volleyball final with Section 4 champion Maine-Endwell, HEN HUD experienced a season-first. Maine-Endwell had dealt Hen Hud its first set loss this season, evening the regional final at 1-1 with a pivotal third set upcoming.
Hen Hud senior Amya Davis and her teammates understood the Section 4 champs raised their level of play in set two.
"Their serving was picking up and this enabled their offense to pick up," said Davis, a four-year varsity player. "We came together between sets two and three. We said that set was over and it was time for us to play better. Set one we came out fired up and they responded in set two so we knew we had to respond."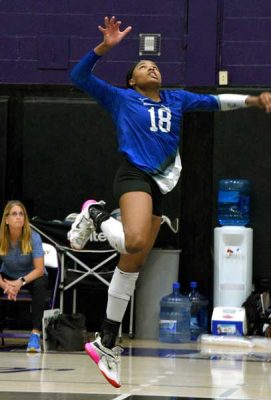 Hen Hud (21-0 this season) did just that, winning the last two sets to eliminate Maine-Endwell and punch its ticket to its 11th NYS Final Four since 2011, Nov. 19-20, at Cool Insuring Arena in Glens Falls.
The final four teams in Class B will participate in pool play, beginning 3 p.m., Saturday. Each team will play two sets against the other three teams. The two teams with the best record after pool play will face off for the title, 2 p.m., Sunday.
Even though Hen Hud lost its first set of the season, Davis pointed out that the Sailors had faced deficits during the season, but always rallied to victory.
"This is probably the most composed team I've played with," said Davis, who will attend Shepherd College (W.V.) next fall, majoring in Nursing and continuing with volleyball. "Everyone has become a lot more mature, individually, and that has led to getting themselves through these situations and helping each other get through these situations."
Volleyball players and coaches will always note that when a match is even at 1-1 after two sets, a win in set three is crucial.
"It was super important to win the third set because if we didn't then we would have been down, 2-1, and that's a whole different level of energy and momentum we would have had to to push back against," Davis said. "It was important to be able to do that, especially in the state tournament and the state final four. To know we can handle that and come back is super important."
Along with its composure, Davis pointed out another strength of the team that led to the victory.
"The last two sets showed our heart," Davis said. "We didn't let the loss in set two affect us, negatively. Everyone knew we could play better and wanted to play better.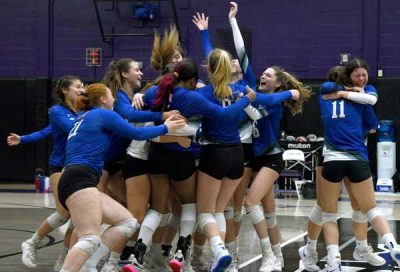 "Coach (Swertfager) said she was proud of our composure and the amount of heart we played with. We all agreed that we were proud of each other in that we were able to pull it together, keep playing and win."
Hen Hud was the state runner-up last year, to John Glenn (Section 11). The veteran, returning group is very familiar with the venue and what needs to be done in order to win a state title.
"It's a big gym with depth perception and noise issues, but we're used to it having been there before," Davis said. "We're used to the pressure of playing in the finals, from last year. No one wants to feel that way again, like we did after the final last year. We're going to keep working so that we don't feel that way."
Davis and her fellow seniors, Camille Gibson, Madison Porter, Vera Montalbano and Adelina Elezaj, will be raising their level of play so that Hen Hud can return home with the championship plaque.
"To be back at the state final four is something we've all wished for and have been working hard for, this year," Davis said. "The team, especially the seniors, is going to give it our all. I'm hoping the third time is the charm."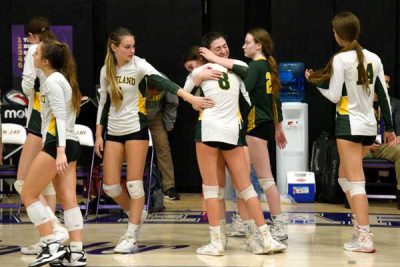 LAKELAND and 18-time defending Section 9 champion Cornwall were all even through two sets of their New York State Class A regional final.
The Hornets, who had never advanced to this point previously, won the second set and had the momentum, but the Dragons halted that, winning the last two sets and advancing to the state final four.
The Hornets completed their memorable sectional-title season with a 21-4 record.
"Cornwall was very consistent in their serving and attacking," said senior and captain Kayla Jennings. "They went on a lot of scoring runs and limited their mistakes."
Jennings, along with classmates Olivia Berkson, Sarah Cahill, Nikole Langan, Eve Gallagher and Abbey Wuerth, were instrumental in giving Lakeland and veteran Coach Steve Fallo the first sectional volleyball championship in school history.
"For us to be able to go out with a section title is bittersweet," Jennings said. "It was a perfect ending to our career especially because we've all been with the program for 4-6 years. What made this season so special is we got to make history and did a lot of things no one ever expected us to do.This team was so close on the court and, especially off the court which made every moment with them the last two months so much fun."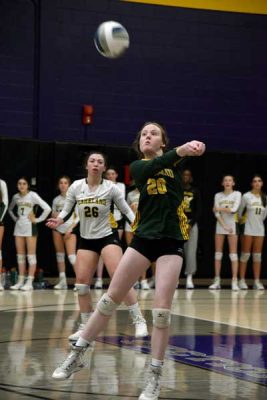 Fallo, the varsity volleyball coach for 37 years, agrees.
"Any time you win a Section 1 title it's very special," said Fallo, who won consecutive Section 1 girls' basketball titles in the late 80s with Patty Daly, Renae Rutigliano, Janine Giovanazzi and Adrienne Williams. "This team just improved every day and believed they could win it all. Now, they will always be remembered as the team that won Lakeland's first Section 1 volleyball title."
Even though Fallo's six seniors graduate in June, Jennings knows Lakeland will be a sectional contender from this point forward.
"I think the future is very bright for this program," Jennings said. "In my time here we've always been considered 'underdogs,' but now that we've finally broke through, won the title and got to the top, I think this is only the beginning for this team. There were lots of underclassmen this year, who gained tons of experience, so by next year they should be more than ready to lead the way."
Eighth-grader Kelly Mallon (15 kills and 20 digs) and Emma Dedushaj (20 assists), along with Jennings (11 kills and 28 digs), were named all-section. Berkson (8 assists) and Cahill (18 digs) were chosen all-conference and all five girls also received all-league honors.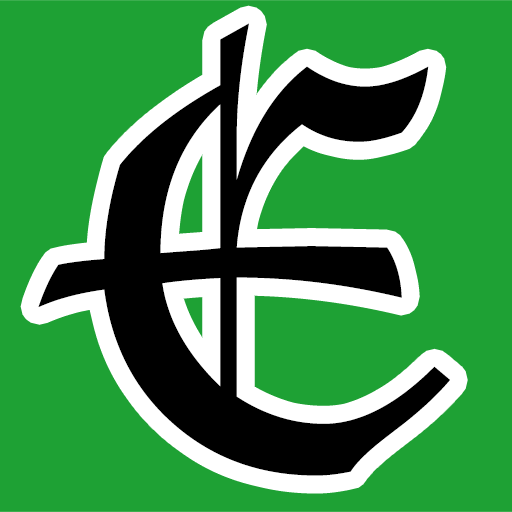 Examiner Media – Keeping you informed with professionally-reported local news, features, and sports coverage.