Hen-Hud Evens Girls Lax Season Series with Somers; Share League Lead
We are part of The Trust Project
With three-fourths of the regular season under our belts, the cream is starting to rise to the top, and some up-and-coming programs are making strides. Let's start there.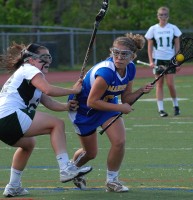 Hen-Hud/Somers
In a tight battle at Somers Wednesday, it was Hendrick Hudson topping the Tuskers, 7-6, for a victory that tied the Sailors (8-2-1) with Somers (8-4) for first place in the league. Somers won the first meeting between the teams, 7-4, back on April 2nd.
Freshman Amber Feminella led the scoring attack for Hen Hud with three goals in a performance Sailors head coach Mary Montesarchio called, "awesome."
"I think [Amber's] confidence is coming with getting the experience of being on a varsity team, and realizing that she can play with these girls," Montesarchio said. "She's been playing great and we're realizing that our younger players can score goals too."
Junior Bailey Stewart scored two goals in the win and Angela Marriot (junior) and Sarah Oricchio (senior) each had one.
Sailor Goalie Hannah Melamo had 10 saves in the game, proving hard-work and persistence has paid-off wonderfully for the junior.
"At the beginning of the season she started off kind of slow but she's been going to clinics and has improved a heck of a lot, which is great," Montesarchio said.
With just two-losses and one-tie this deep into the season, the win against Somers has the Sailors spirits running-high with the hopes of winning the league title and possibly making a run at the Class B Final or more.
"The girls are pretty happy and I told them to not let their heads get too big because we still have to win four league games (North Salem, Beacon, Putnam Valley, and Carmel)," Montesarchio said. "We're just going to take it one game at a time and hopefully we'll come out on top."
The biggest highlight of the game for Somers was senior Claire Roediger, who netted her 100th career leading the Tuskers on offense along with Quinn Cartelli, as the pair each scored two goals. Sarah Mink and Nicole DeMase had one goal apiece and goalie Carly Shaw had 14-saves in a defensive battle.
"It was definitely great defense on both sides and both teams' goalies came up with some great saves," Somers Coach Jamie Irving said. "On the offensive-end, when we did get our opportunities we were not able to convert…they took a little bit better advantage of their attacking chances than we did, so they came out with the extra goal and the win."
After losing to Hen Hud, Somers redeemed itself with a 14-11 win over Beacon (4-7). Mink and Emma Schurr each scored three goals in that game and Roediger and Cartelli each had two.
"Every day is a battle and every day we want to progress a little bit but don't want to take any steps back, but instead take baby-steps forward and get to the final product," Irving said. "It is crunch time and we're making sure we leave it out on the field."
Somers has three games this week starting with Horace Greeley (4-7) at home Tuesday followed by games at Kennedy Catholic Wednesday and at Carmel Friday.
Hen Hud is scheduled for games at Putnam Valley (7-4) Wednesday and at Ossining (6-6) on Friday.
Mahopac/Lakeland-Panas
Undefeated Lakeland/Panas (11-0-1) beat Mahopac, 15-9, increasing the Indians losing streak to three-straight games and dropping their season record to (8-4-2).
All-Section standout Emma Bozek frustrated the Indian defense all game long with an incredible seven-goal-performance, taking over in the second half. Molly Fitzpatrick had three-goals for the Rebels and Chyna Hill and Amanda Vasta added two-goals apiece.
"We struggled a bit in the first half with Mahopac," L/P Coach Sharon Sarsen said, "but in the second half Emma did what Emma does. She's one of the top three athletes in Lakeland history and she's going to find a way to get it done."
At the end of the first half the score was tied 6-6 but the Rebels were too much to handle late in the game, outscoring the Indians 9-3 in the second half.
Samantha Karner led the Indians in scoring with four goals. Kaitlin Nolan had three and Courtney Shea had two.
Mahopac Coach Jim Lieto is confident his team will put its current losing streak in the rear-view-mirror by ending the season with some wins.
"Lakeland/Panas is a talented team and Emma Bozek is a special player," Lieto said. "As the second-half began Lakeland/Panas was able to control possession for far too long.  Our defense worked extremely hard, but just got worn down. It was a difficult week, but I know the girls are going to keep working hard and finish off the regular season strong this week."
Mahopac try to get back on track in a tough test at Yorktown Wednesday at 6pm.
Lakeland/Panas will try to keep its fantastic season rolling with home games against Wappingers (4-9) Wednesday and Arlington (8-3) Friday.
Ray Gallagher contributed to this story.