Hen Hud Alum Jenks Guides Students at New Film Festival
We are part of The Trust Project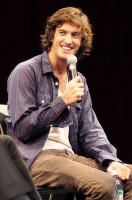 By Molly Stazzone
There may not be too many people more qualified to appreciate and promote the work of young filmmakers than Andrew Jenks.
At 16 years old, Jenks, now an award-winning moviemaker and a Hendrick Hudson High School graduate, founded the Hendrick Hudson Film Festival, managing to secure actor James Earl Jones as its keynote speaker for the second year.
While an NYU sophomore, he moved into a Florida assisted living facility to tell the story of its residents in what turned out to be the hit documentary "Room 335."
Two years later, Jenks filmed "The Zen of Bobby V," about former Major League manager Bobby Valentine while he led the Chiba Lotte Marines in Japan. He persuaded ESPN executives to air the documentary on the sports network.
He's even coming out with a book, "My Life as a Young Filmmaker."
This weekend Jenks will lift the curtain on his latest project. He and his company, Andrew Jenks Entertainment, will present the inaugural All-American High School Film Festival at the AMC Theaters at Times Square in Manhattan.
Despite being a precocious filmmaker in his own right, the quality of work in the more than 1,000 submissions from students around the United States and seven other countries vastly exceeded Jenks' expectations.
"I had no idea that high school students were capable of such amazing work," said Jenks, the producer and creator of MTV's critically acclaimed "World of Jenks." "Simply put, these films blew me away. The future of filmmaking is bright. I am thrilled that the festival will connect talented students with valuable resources."
Jenks' best friend, Brian Lindenbaum, director of development at Andrew Jenks Entertainment, said the idea came about a little over a year ago with the idea to bring together the next generation of filmmakers and provide them an opportunity to see their films on the big screen. Their reward is helping to guide the students toward their dreams, he said. More than 80 films are expected to be screened at the theaters from Friday through Sunday.
The event, however, isn't just a collection of cinematic productions from high school students in a variety of categories. The works will be judged by top talent such as Ed Burns, Dylan McDermott, Morgan Spurlock, Kristen Stewart, Henry Winkler, Danny Rose and Carlton Cuse. There will also be panel discussions featuring filmmakers, university professors and top industry insiders. A college fair, a technology showcase and musical performances and the east coast premiere of Relativity Studio's "Romeo and Juliet" round out what should be a fun weekend.
In each category, which includes drama, comedy, documentary, animated, music video and made in New York there will be a winner selected by the panel of judges. There will also be a best film winner, who will receive a $1,000 scholarship, fly to Los Angeles to meet Tucker Tooley, the president of Relativity Studios, go to a private screening with industry professionals in SoHo and a $300 Fandango Gift Card.
Ticket prices are $15 for Friday night, $30 for Saturday and Sunday. Doors open at 5:30 p.m. on Friday and 10 a.m. Saturday and Sunday. For more information about the festival, visit www.hsfilmfest.com