Business Profile: Heart & Soles, Armonk
We are part of The Trust Project
Mariann Morales has always loved fashion. During her career as a shoe sales associate, customers would frequently ask her advice on the type of shoe to wear with a specific outfit.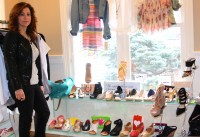 Realizing she had a knack for harmonizing both, Morales set out to create a unique shoe boutique that she runs out of Ruthie'Z in Armonk.
Teaming up with proprietor Ruthie Zeide was a no-brainer for Morales. Zeide's high-fashion boutique has been a mainstay in the town for more than 25 years.
The architecturally beautiful house-turned-store has an array of contemporary clothing, belts, unique jewelry, and now, a line of fashionable shoes to match Zeide's merchandise.
Morales, a Goldens Bridge resident, used to sell her fashionable and comfortable-wearing merchandise in Mount Kisco before making the move to Armonk.
When customers walk in, they can't help but notice her eye-catching spring/summer collection of shoes, which includes caged and strappy sandals, dress shoes, espadrilles, gladiators, wedges and more.
Stylish brands like the tried and trusted Johnson & Murphy, the Italian-made Via Spiga shoes, the stylish Lucho brand from Brazil, the flamboyant line of Desigual shoe wear from Spain, Gentle Souls by Kenneth Cole and J/Slides can all be found at Heart & Soles.
"I look for shoes that you can't find in a department store, and I personally stand behind all of them," Morales said.
In fact, Morales, a Brooklyn native with two grown children, has worn nearly every style of shoe she sells. She has about 40 pairs of shoes on display in the store, but carries the same brands and more in a wide assortment of sizes that she houses in a storage room upstairs.
Morales also has a small collection of leather handbags from British Columbia and One Fated Knight as well as trendy pocket books from Desigual, the snakeskin Sorial bags and the popular Lolo totes and luggage tags.
Happy to be involved in something she has a true passion for and excited to have her business in a new home in Armonk, Morales said she is looking forward to expanding her merchandise in the coming months.
Heart & Soles, located at 470 Main St., is open Monday through Saturday 10 a.m. to 5 p.m. and on Sundays by appointment. Check out the Heart & Soles website at www.heartandsolesny.com and like the boutique on Facebook.
Colette Connolly is a copywriter and p.r. expert. She owns Connolly Communications, which is based in Bronxville, New York. Colette specializes in providing content-rich, SEO-optimized press releases, articles, newsletters, brochures, and customer success stories.