Hayworth Visits Somers' CVS to Talk Jobs and Procedures
We are part of The Trust Project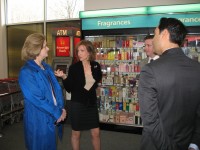 By Alex Weisler
Though Rep. Nan Hayworth joked that she's a dedicated CVS shopper, she visited the pharmacy chain's Somers branch in a more official capacity last week.
"I'm a frequent flyer at CVS, by the way," she said, laughing. "My CVS ExtraCares card is certainly one of your more frequently used ones."
Hayworth visited the store to get an inside look at pharmacy procedures and discuss job creation with the CVS staff. Her tour was administered by CVS district manager Jason Tretton and CVS district pharmacy supervisor Raj Dodani. Somers Town Supervisor Mary Beth Murphy also attended the event, as did CVS Somers store managers Ever Mazariegos and Javier Rosa.
Tretton told Hayworth she'd be getting a look at "the way we provide healthcare to the community."
After hearing about CVS's efforts to buoy employees' knowledge of technology and use computer systems to reduce the risk of error, Hayworth asked the men about the push's price tag.
"Clearly, there's a cost involved for education for your staff … so how do you as a local pharmacy, as a CVS, how do you manage the cost?" Hayworth asked. "I recognize that that's an investment CVS is making in its clients."
Tretton told the congresswoman that the computer system made it easier to personalize each CVS location, helping on-site pharmacists know which medicines to keep on hand.
"We identify what the community needs," he said. "And as the community's needs change, the drugs on hand will change."
Dodani said the Somers location kept about $2 million of pharmaceuticals on hand.
The computer system also helps keep processes standardized at CVS locations across the country, he added.
"We're very systematic at CVS," he said. "We have over 7,000 stores and we have to do that to ensure there are no errors."
Hayworth reminded the group that she had been "a prescribing physician for years" and said she agreed when Tretton called the pharmacy "one of the hubs of the care network."