Hayworth Tops Maloney, Claims Independence Line in Primary
We are part of The Trust Project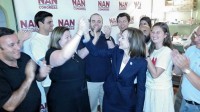 Improving her mission to reclaim her old seat in Congress, former Republican Rep. Nan Hayworth pulled out a primary day victory against incumbent and Democratic Rep. Sean Patrick Maloney to gain the Independence Party line for November's general election.
Unofficial results reported by the state Board of Election show Hayworth beat out Maloney by less than 100 votes, 729-649 to claim the only line that was not yet decided. Hayworth, a Bedford resident, has already secured the Republican and Conservative line, while Maloney, a Cold Spring resident, claimed the Democratic and Working Families line.
Maloney, who is serving his first term in Congress, called Hayworth at roughly 10:30 p.m. Tuesday night to congratulate her on the win, according to a Maloney campaign spokesperson.
Hayworth, 54, said in an interview, "For the people of the Hudson Valley, this is a great win" and noted it's another step in claiming the seat.
In a statement, Maloney, 47, said he looked "forward to a debate about our visions for the country this fall."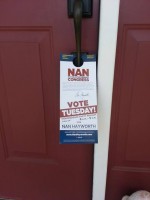 "I'm going to wake up tomorrow morning and keep putting points on the board for my hardworking Hudson Valley neighbors," Maloney went on to state. "The best politics is doing my job and getting results by creating good paying jobs here at home, reducing taxes for middle class families and small businesses, cutting wasteful spending and protecting Medicare and Social Security."
Maloney and Hayworth's fight for the Independence line was the only primary for that specific party in the state. Out of the four counties the 18th congressional district covers, Hayworth got the majority support in three of them. In Putnam County, Hayworth topped Maloney 113- 89 votes.
In 2012, when Maloney and Hayworth first faced off, neither had the Independence line for the general election. When Hayworth won against former Rep. John Hall in 2010, she had the Independence line. Overall, there are 22,506 active members of the Independence Party in Orange and Putnam Counties and parts of Dutchess and Northern Westchester Counties where the district lies.