Hayworth Outraises Maloney; Has Five Times More Cash On-Hand
We are part of The Trust Project
The re-election campaign of Congresswoman Nan Hayworth announced quarterly fund-raising totals on Wednesday, July 18. Hayworth raised $467,599 during the second fund-raising quarter, spanning April 1 through June 30. To date, the campaign has raised $2,098,570 this election cycle and currently holds $1,478,925 in cash-on-hand.
By comparison, Hayworth's Democratic opponent Sean Patrick Maloney raised only $320,620 during the second quarter. Maloney's campaign now holds $264,363 in cash-on-hand, less than one-fifth of Hayworth's campaign resources.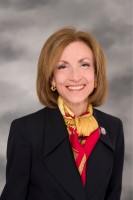 "We're excited to see this quarter's strong show of support for Congresswoman Hayworth," said campaign spokesman Michael Knowles. "These numbers demonstrate what we've suspected all along: that citizen-legislators with long-standing, local roots attract supporters, while candidates who have never lived, worked, or raised a family in the district have a more difficult time."
The above is an announcement released by Congresswoman Nan Hayworth's campaign office.