Hawthorne Street Named in Honor of Fallen 9/11 Firefighter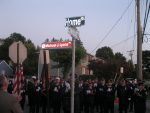 Michael Lyons, a New York City and Hawthorne volunteer firefighter who perished at the World Trade Center on Sept. 11, 2001, was honored with more than just words on the eve of the 16th anniversary of his death.
The street in front of the Hawthorne firehouse at Home Street and Elwood Avenue was officially named Michael J. Lyons Plaza on Sunday evening. The unveiling of the street sign followed a ceremony, which included members of the Hawthorne, Valhalla, Thornwood and Pleasantville volunteer fire departments, to remember 9/11.
Mount Pleasant Supervisor Carl Fulgenzi said the town board agreed to rename the street at the request of Hawthorne firefighter Carlo Valenti.
"As a small token of appreciation, the residents of the Town of Mount Pleasant will forever remember Michael from Squad 41, New York Fire Department by adding his name to the street of his home firehouse," Fulgenzi said.
The new street sign is located in front of "the place where his fellow firefighters refused to forget him," Fulgenzi said. Lyons' family "will always be in our thoughts and prayers," he said.
Lyons, 32 at the time of his death, earned a degree in engineering from Manhattan College in 1994 before becoming a firefighter. He joined the FDNY in 1995, serving for five years at Engine Company 44 before going to Squad 41 in the Bronx.
He enjoyed playing darts and taught his fellow firefighters how to gamble, said Ed Kennedy, a former New York City firefighter who worked with Lyons.
To make additional income, Lyons assembled bicycles at Toys "R" Us and worked other odd jobs, Kennedy said.
"Mike was a character," Kennedy said. "He was a lovable person."
During Sunday evening's ceremony, Fulgenzi praised the continuing efforts of first responders.
"It's hard to comprehend a fireman or a police officer or emergency personnel knowing the dangers facing them to enter a building in flames for the sole purpose of helping those in need, to save lives," he said. "It's bravery beyond comprehension."
Lyons, one of the 343 New York City firefighters killed at the World Trade Center on 9/11, was also remembered fondly by Mount Pleasant resident and retired FDNY lieutenant Tom Sialiano. Sialiano's home firehouse was 10 blocks from the World Trade Center.
"I learned a lot. I learned about teamwork. I learned it's worth it to help people, it's worth it to put your life on the line," he said. "And that's what Michael Lyons did on that day. And every firefighter didn't care who was in that building. They went in there with total disregard for themselves to save lives. It was one of the greatest rescue operations in the history of the City of New York. We saved thousands and thousands of people."
"We're never going to forget Michael Lyons," Sialiano added. "He was a hero. He was a patriot. He was a wonderful person."
Following the ceremony, one of Lyons' daughters, Caitlyn, choked up while describing how she felt about having the street named after her late father. His youngest daughter, Mary Michael, was born after 9/11.
Caitlyn thanked Valenti for coming up with the idea to honor her dad and propose it to the town.
"It's really nice," she said.