Hawthorne Resident Appointed to Fill Vacant Mt. Pleasant Seat
We are part of The Trust Project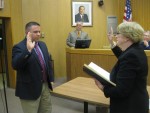 Hawthorne resident Nicholas DiPaolo was unanimously appointed to fill the vacant Mount Pleasant Town Board seat Tuesday night.
DiPaolo, 36, one of eight hopefuls interviewed for the opening, is a guidance counselor at Westlake High School.
"I believe that we live in a great town," DiPaolo said of his decision to pursue the seat. "I believe the board is doing great things and I just want to do my part to continue doing that great work."
He takes over Carl Fulgenzi's old seat for the remainder of the year. Fulgenzi was appointed supervisor last October after former supervisor Joan Maybury resigned from her seat for family-related reasons.
DiPaolo is the coordinator of the Mount Pleasant School Service Club, which works with several organizations such as the American Legion, the Lions Club, the Rotary Club and the Mount Pleasant Italian American Association. DiPaolo is a member of the Lions Club and the Italian American Association as well as the Westwood Swim and Tennis Association.
He said he intends to run for a full four-year term in November.
DiPaolo said he wanted to continue the work the board has been doing to revitalize the town's downtown areas. He also hopes to continue "the great work" the board has been doing on fiscal matters.
"Making sure that we're being responsible to taxpayers and, of course, enhancing the recreation within the limits of the budget, so that our children and seniors can benefit," DiPaolo added.
Councilman Mark Rubeo said he was impressed with DiPaolo for "his service to the community."