Hawthorne Man Arrested on Narcotics Sale Charges
We are part of The Trust Project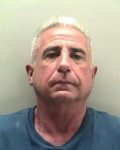 A 58-year-old Hawthorne man was arrested last week and charged with three felony counts for allegedly selling narcotics out of his home.
Michael Lorenzo, a tenant at 148 Atlantic Ave., was taken into custody on July 1 by Mount Pleasant cops following the execution of a search warrant at his residence, according to police.
Lorenzo was charged with two counts of fifth-degree criminal possession of a controlled substance and one count of fourth-degree criminal sale of a controlled substance.
One motor vehicle, a quantity of cocaine that rose to felony levels and more than $70,000 in cash were seized by town police at the residence, said Chief Paul Oliva.
Oliva said a tip from a nearby resident about suspicious activity taking place at the address resulted in a three-month investigation into narcotics trafficking. He commended members of the Detective Division and the Patrol Division for their role in the arrest.
"We continue to encourage people to come forward with information, as the community members are our eyes and ears," Oliva said. "The Mount Pleasant Police Department takes the scourge of narcotics seriously, as there has been and continues to be unnecessary loss of life as a result."
Lorenzo was arraigned on July 2 and bail was set at $30,000.