Hawthorne Legion Honors D-Day Vets on 70th Anniversary of Invasion
We are part of The Trust Project
By Jason Birkelbach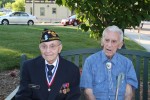 Gene sat as still as he could on the bench as his hands shook the cane on his lap. He spoke very lightheartedly. A nearby voice addressed him, "Gene, this is Jack."
Gene looked up and saw a slightly hunched figure and excitedly exclaimed, "He looks older than I am!"
This was the first time Eugene Thomas Cavanaugh Jr. had met the short-statured, soft-spoken Jack Carosi, but the two share something special: both are D-Day veterans.
They greeted each other on Friday at the Hawthorne Veterans Memorial on the 70th anniversary of the epic battle. American Legion Post 112 held a memorial ceremony that honored soldiers and medal of honor recipients who fought in Normandy and subsequent battles.
"There's not that many of these guys around anymore," said Frank Morganthaler, of the Legion post in Hawthorne. "If you don't show them a little recognition now, the chances of doing that down the road, it's not going to happen."
The ceremony featured a wreath laying and rifle salute from the honor guard, which transitioned seamlessly to a bugle rendition of "Taps."
Morganthaler spoke to the small crowd gathered about the history of D-Day and conveyed his own thoughts of the anniversary. He read aloud Gen. Eisenhower's speech to the troops, a speech Cavanaugh and Carosi received firsthand 70 years ago.
The two took different routes to Normandy. Cavanaugh landed in France the night before Carosi, as a paratrooper, a first-class private in the 101st Airborne Division. The Croton native was in college when he enlisted.
"I wanted to fly," Cavanaugh said. "My mother wouldn't sign the papers…because she said 'You'd have to go to war.'"
He joined in 1942, starting with the 82nd Airborne Division. But the 101st Airborne required more men prior to D-Day. To fill the need, Cavanaugh, along with other 82nd Airborne soldiers, were transferred.
"He jumped into Normandy with the 101st," said Stephen Smalley, Cavanaugh's nephew. "His platoon commander got shot down…they were all separated all over kingdom come."
Despite the rough landing, the campaign took the 101st  Airborne to the Belgian town of Bastogne. There, Cavanaugh and his comrades fought off a German siege for seven days until being relieved by General Patton's Third Army.
He returned home with two bronze stars for his action in the war.
Before serving, Carosi came to New York as an Italian immigrant, settling in the Bronx. He hadn't gained full citizenship when he was drafted on Jan. 23,1943.
Carosi served as a first-class private with the 29th Infantry Division. He landed in Normandy as part of the first wave of soldiers that stormed Omaha Beach, an assault that many didn't survive.
"They dropped the ramp, the company commander said 'Let's go boys!' and he jumped, and he disappeared," Carosi said. "A wave of water came in and it flooded the boat. I didn't follow him."
In the confusion, Carosi decided to jump over the left side of his landing craft into the waist-high water. He made his way toward the beach. Sitting in the sand was a colonel who had been shot in his right hand. The wounded hand held a cigarette while the other grasped a pistol. After some time in combat, an enemy bullet wounded Carosi.
"What you do on D-Day is a lot different than what you do after," Carosi said, "You don't know, you don't know where you're going to run into, what kind of situation you're going to find, if you're going to survive."
He returned to the States with a bronze star and a purple heart.
Cavanaugh and Carosi both live in Westchester; Cavanaugh returned to Croton, and Carosi moved to Valhalla.
"Gene loved getting out tonight," Smalley said.
During the ceremony, they both placed a wreath on the Hawthorne memorial. A quick salute followed from the attending American Legion members. The D-Day vets then talked and shared experiences with each other and those who came.
Morganthaler said more can be done to honor men like Cavanaugh and Carosi and all those who have served.
"There's 1 percent of the country serving now protecting the other 99," Morganthaler said, "There's not that many people that seem to care (so) spend a half-hour to thank them."
During his remarks, Morganthaler expressed his gratitude.
"We owe you everything.  We owe you the air we breathe today.  We owe you the freedom we have."