Harrison's School of the Holy Child Builds Into Second Century
We are part of The Trust Project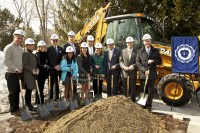 By Jon Craig – School of the Holy Child is building upon its future with plans for a $7 million Field House, 400-seat theater and a specialized program in architecture, engineering and design.
The Catholic all-girls preparatory school, covering grades 5 to 12, is so popular that public officials in both Rye and Harrison claim ownership to it, although it's physically located at 2225 Westchester Avenue in the Town of Harrison.
William C. Hambleton, head of the school, said, "It's a great day in our history. Our new facilities will enable us to expand our innovative programs for the students of today and tomorrow."
Alfred F. Kelly Jr., chairman of Holy Child's Board of Trustees, said he met his wife at Holy Child during her senior prom in 1977. Kelly's older girls are Holy Child graduates and a third is entering fifth grade next year.
"We have a long tradition of offering an outstanding, forward-thinking learning environment,'' Kelly said.
Deputy County Executive Kevin Plunkett, whose four daughters attended Holy Child, said, "I'm very honored to be here today."
Plunkett called it his good fortune that County Executive Rob Astorino had just announced his race for governor and was traveling, giving him the opportunity to represent Westchester at Thursday's groundbreaking ceremonies behind the school.
"My affiliation goes back 25 years. Holy Child is a great asset of Westchester County. It means the institution is healthy and it means it's going to be here a long time," Plunkett added.
Harrison Mayor Ron Belmont, who was wearing a tie decorated with Holy Child's mascot – Gryphons, called the event "absolutely wonderful. We're going to redo Westchester Avenue."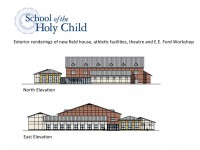 Designed by Peter Gisolfi Associates of Hastings, who worked with the school to update its campus master plan, the 22,000-square-foot Field House will include: a 9,700-square-foot gymnasium with two regulation-size basketball/volleyball courts; bleacher seating suitable for tournament play; locker rooms for the home and visiting teams; office space for physical education staff and coaches; an athletic training room; a weight and fitness room; a dance and movement area; and a student commons area.
Significant improvements also are planned for the school's Ross Field.
After completion of the new Field House, the current multi-purpose gymnasium will be converted into theater space for music, dance and drama productions, liturgies and assemblies. The new 400-seat theater will include a full stage, state-of-the-art lighting and sound equipment, dressing rooms and wardrobe storage.
The project also calls for creation of the E.E. Ford Program in Architecture, Engineering and Design Workshop. It will enhance the hands-on application of science, technology, engineering, art and math education and will include a workshop for woodworking, computer-assisted design, 3-D printing, circuit and architectural design.
"Today's groundbreaking marks the culmination of a multi-year planning process that evaluated the strengths of Holy Child and carefully considered the future program and curriculum," said Domenick Ciaccia, who co-chaired the Capital Campaign Committee with former Trustee Joe Houlihan.
"With a state-of-the-art Field House and new theater, Holy Child will provide one of the most outstanding educational settings in the region, where students will continue to perform and compete at the highest level," Ciaccia said.
"We look forward to the day we cut the ribbon for the Field House and fill the seats in the new theater,'' Kelly said.
Plunkett added, "We look forward to coming to the ribbon-cutting when Rob Astorino will either be the governor or the county executive."
Completion of the Field House is expected October of this year and for the entire project Spring 2015.
The 110-year-old school is guided by the educational philosophy of Cornelia Connelly, the found of the Society of the Holy Child Jesus, and her dedication to the "joy in teaching and joy in learning."