Harrison Resident Elected First Woman NYSUT President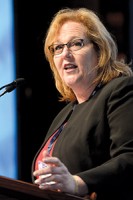 By Jon Craig
Karen Magee, 54, of West Harrison was elected president of New York State United Teachers (NYSUT) last week, making her the top officer and first woman to lead the statewide union that represents 600,000 members.
Magee, a lifelong resident of Harrison, was the longtime president of the Harrison Association of Teachers, one of NYSUT's 1,200 local unions.
At Wednesday's regular meeting of the Harrison Board of Education, Superintendent of Schools Louis Wool offered his congratulations to Magee.
She spent nearly 30 years as an elementary education and special education teacher in Harrison, before her election as NYSUT's president on April 5, ousting incumbent Richard Iannuzzi. She automatically gives up her job as president of the Harrison teachers' union.
Magee is NYSUT's third president to lead the 42-year-old union, elected to a three-year term.
Magee has a history as a statewide activist, serving as a longtime member of NYSUT Board of Directors, an elected trustee to the New York State Teachers' Retirement System Board and a member of numerous NYSUT committees. She is also a graduate of the NYSUT Leadership Institute and a delegate to the American Federation of Teachers convention. The day after Thanksgiving 2013, Magee joined the president of the American Federation of Teachers, Randi Weingarten, at a Black Friday protest with other union members outside Wal-Mart in White Plains, displaying support for Wal-Mart's non-union workers.
Magee has served for more than a decade as an officer of the Westchester/Putnam Central Labor Body (WPCLB), AFL-CIO, and is the proud recipient and first female to receive the WPCLB Labor Award. Magee has a reputation for building coalitions outside of her union work. She was a member of her local United Way Board of Directors and helped lead efforts to raise more than $10,000 for construction of a children's hospital in Westchester. As a longtime board member of the Statewide Schools Cooperative Health Plan, she also has fought to protect the medical benefits of thousands of NYSUT members, according to her biography. She was unavailable for comment this past week.
Magee received her degrees from Mercy College in Dobbs Ferry and Manhattanville College in Purchase.
After her election, Magee issued a call for unity and action, vowing that NYSUT "will be the collective voice they cannot ignore."
"Every voice will matter. Every local will matter, regardless of size or make up,'' Magee said, getting a standing ovation during her first speech to more than 2,000 union delegates. "And we will make sure, in the public arena and in the halls of power, that NYSUT matters."
NYSUT's web site said that Magee's first days in office were spent traveling across the state to talk with members and ask them what they want and need from their union.
Delegates also re-elected Andy Pallotta, who had a falling out with Iannuzzi, as executive vice president; Catalina Fortino and Paul Pecorale as vice presidents; and Martin Messner as secretary-treasurer. Each officer serves a three-year term.