Harrison Planners OK Pro Soccer Practices at Manhattanville; Purchase Neighbors Cry Foul Over $10 Million 'Corporate Deal'
We are part of The Trust Project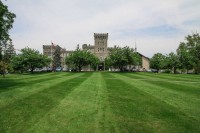 By Jon Craig
The Harrison Planning Board last week gave a new professional soccer team permission to renovate indoor and outdoor facilities at Manhattanville College in Purchase.
The 4-2 vote allows the New York City Football Club, co-owned by the Yankees and Manchester (England) City Football Club, to remove outdoor tennis courts and convert the existing outdoor fields into a regulation-size field with new lighting for practices. The $10 million project also includes removing an indoor pool at the college's 56,000-square-foot Kennedy Gymnasium so indoor practice turf can be installed.
But a Battle Royale is shaping up between soccer enthusiasts and area residents who expressed concern about increased traffic, noise and the possibility the facilities will become a permanent training site for the pro team. Neighbors said they may seek a court injunction to block the project.
Pro soccer practices are expected to begin at Manhattanville in January 2015.
The soccer team's site change application explained that only 35 parking spaces are needed for players and coaches and that the impact on traffic would be negligible. But that is operating under the assumption that the team will only use Manhattanville's campus as a practice facility, and possibly a few exhibition matches. The team is searching for a permanent home stadium in New York City. Meanwhile, the pro team recently secured permission to play its first 17 home games next year at Yankee Stadium.
Officials from the 173-year-old college, which will not incur any of the proposed renovation costs, praised the plan for a "state-of-the-art-facility." The college has given the soccer team a five-year lease with options for two, one-year renewals.
College President Jon C. Strauss said: "Manhattanville College has found a strong partner that truly cares about the local community. This is ideal for us given our longstanding history and commitment to Westchester County residents. We look forward to a fruitful and mutually beneficial partnership. . ."
Manhattanville Athletic Director Keith Levinthal called the development "a promising step for Manhattanville College, and equally important, for the Harrison community."
But Purchase resident Michael Tokarz, an attorney and chairman of the Purchase Environmental Protective Association, said the project will change the character of Manhattanville's campus, calling it a "corporate takeover."
At an earlier planning board meeting, town officials were told the practice fields would only be used until a new permanent stadium was found for the Major Soccer League team. The team also plans to sponsor an academy for up to 100 youths who would use the fields at night and on weekends.
Fate of Purchase Free Library at Stake
Another landmark along Purchase Street (Route 120) at Anderson Hill Road is facing change.
The Purchase Free Library, a tenant of the Purchase Community House since 1928, recently was asked to pay rent month-by-month, and told it may be evicted.
The popular library has five part-time employees and has seen its use rise in recent years.
The Community House's Board of Directors may decide the library's fate as early as next month.