Harrison Judge Stands Firm on Quarry Cleanup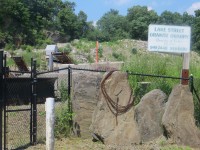 By Jon Craig
A Harrison judge stood his ground Thursday during the Town Court appearance of Lawrence Barrego, owner of the Lake Street Quarry, ordering him to clear vehicles off the property and clean it up.
Barrego has a trial date of Sept. 4 on earlier violations of town and village building codes at the West Harrison quarry.
Judge Marc Lust told Barrego and his attorney, Michael Sirignano, to remove any landfill and recycled material from the blacktop across the street from the quarry, and to remove all the trucks by Friday at 5 p.m.
Sirignano argued that Lust has no jurisdiction over the quarry because Barrego is awaiting a decision by the state Supreme Court in a separate appeal of a 2009 "stop work order" at the quarry. Lust disagreed, asking why there was no site plan for a trailer that doubles as an office on the property. Barrego, through his attorney, explained the trailer is on wheels. "If it's on wheels, you can roll it off," Lust said.
Lust previously reminded Barrego and his attorney that the new violations were cited this year, after the earlier stop work order, and still need to be resolved. Thursday, Lust asked if the quarry owner would like to consolidate all the violations into one trial. His attorney said yes. Barrego did not return a call for comment from The Examiner.
Barrego assumed operation of the quarry in 1985 from his father and grandfather. He has argued that the quarry predates Harrison zoning laws, which were adopted in 1923.
Lust has said the code violations need to be addressed regardless of a recent application to the Harrison Town Board to change the quarry's use and zoning to a "neighborhood business."
"You've had probably over a year to get this thing resolved," Lust said during an earlier court appearance by Barrego last month. "No continuance. . . I am not going to let this thing string out. You should have asked for a stay. You've done nothing."
Quarry operations at 600 Lake St. halted in May, following a new "stop work order" issued by Town of Harrison Building Inspector Robert FitzSimmons.
FitzSimmons said the quarry was in violation of 19 codes that need to be addressed, including the alleged dumping of refuse and yard waste.
The quarry is facing daily fines of up to $2,500 on some of the alleged violations. Other code violations carry weekly fines of up to $250. The state Department of Environmental Conservation also has identified nine violations of state law.
The stop work order, signed on May 14, listed 16 of the alleged violations of Harrison codes, including the lack of a storm water retention and collection system and no site plan approvals for parking, fencing and trailers.
FitzSimmons said the quarry is prohibited from accepting any more recyclables and waste, and is not allowed to sell any material from the quarry while the stop work order is in effect.
Since March, neighbors who live along Old Lake Street and Lake Street have complained to the town board about continued noise, dumping, dust and other pollution at the quarry.
Supervisor Ron Belmont and Town Attorney Frank Allegretti have pledged to address complaints about quarry operations, but have said they are restricted from saying much publicly due to ongoing litigation. "We're monitoring it," Belmont said on Sunday. "It's a very slow process."
The 2009 "stop work order" was issued after neighbors complained the quarry was operating heavy equipment in the middle of the night without permits.