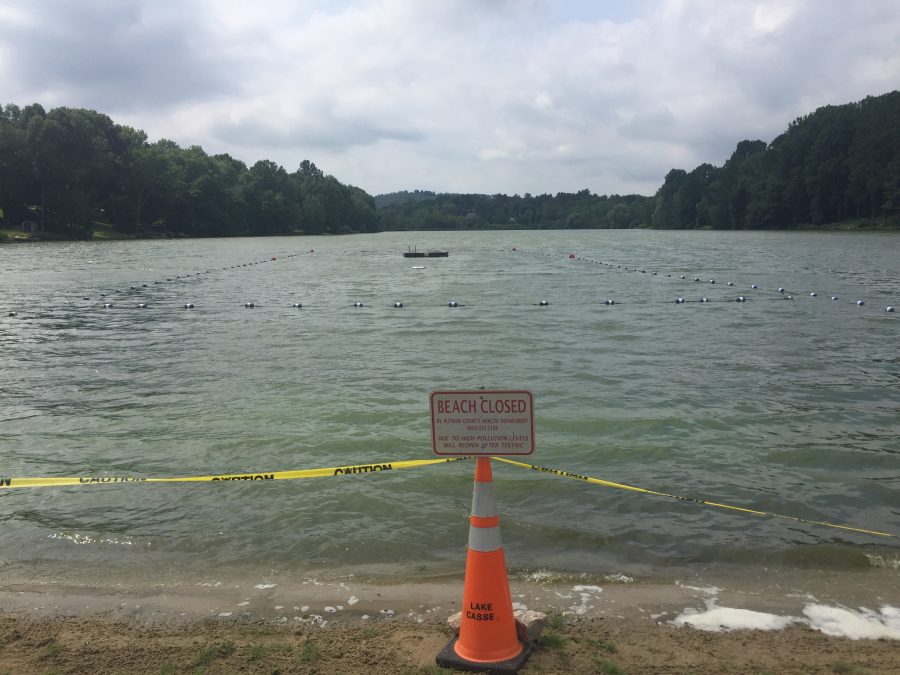 For the past few summers, harmful algae blooms in lakes across Putnam County have caused local beaches to close, leaving residents in the heat of summer hot and bothered.
But this summer, while harmful algae blooms (HABs) have been present in some lakes, overall, Putnam has received a respite from the blue-green algae that can cause illness in people and animals if they are exposed to it.
"It's been a problem but hasn't been as big as previous years," associate public health sanitarian for the county health department Shawn Rogan said. "Yet."
Last year for the entire season, there were 529 days of lost recreation due to blue-green algae and out of the entire state Putnam had 46 percent of all beach closure days. This summer through July, about a dozen different beaches in the county have been closed for at least one day and there have been 93 days of lost recreation which is a slower pace than around the same time last year.
Currently, Lake Casse Beach, one beach at Lake Carmel, Barger Pond Beach in Putnam Valley and Carraras Beach and Singer Beach at Lake Peekskill in Putnam Valley are closed because of HABs.
Putnam struggles with HABs more than other counties because there are so many lakes, Rogan said, and there aren't many sewer systems near those bodies of water. Septic runoff or fertilizer from homes get into the lakes and contribute to the blooms that pop up, he said.
To better monitor the health of county lakes, the health department started a drone program to check for HABs in bodies of water like Lake Mahopac, which is not as accessible to the department. While much of Lake Mahopac is private and the health department doesn't have the purview to close beaches around it, they can still let those private clubs know if HABs are present.
"End of the day our job is protect public health," Rogan said.
While households keeping their septic systems clean and picking up dog waste near lakes are helpful in reducing blue-green algae, Rogan said the weather is the biggest determinant whether or not HABs will appear.
Town supervisors around the county who hear the brunt of complaints if and when beaches are closed are enjoying a summer where most lakes have remained in good shape.
Putnam Valley Supervisor Sam Oliverio said his town has had a sharp reduction in beach closings this summer. Last year, Lake Peekskill was only opened three days the entire summer. But this year, Lake Peekskill has been open almost everyday.
Oliverio credits the new diffuser system that was installed in the lake prior to the season. The New York State Department of Conservation even came down to see the lake with the diffuser and was impressed, Oliverio said.
As for other town's bodies of water, Lake Oscawana never has an issue and that has remained the case this year, Oliverio said, while Roaring Brook has only been closed a few days.
"Last year was terrible for all the lakes," he said.
Southeast Supervisor Tony Hay said so far Southeast has been "very successful" at avoiding beach closures and the town's lakes are in better shape this year than last.
"You would've thought because it's much warmer than previous years it'd be worse, but so far I'm knocking on wood as we speak, it's good," Hay said. "I'm not sure how Mother Nature works, but I'm happy so far."
Kent Supervisor Maureen Fleming said she doesn't see towns in Putnam having a huge HAB issue this year. While a couple beaches around Lake Carmel have been closed this year because of HABs, those beaches already aren't being used because lack of lifeguard staffing.
Fleming thinks part of the improvement in lake health this year has to do with the milder weather, but she also gave kudos to residents at doing a better job keeping their septic systems up to par and cleaning up dog feces near the lakes.
"We can't control the temperature and humidity and those kind of outside forces, but what people can control I'm hopeful that they are because everybody wants to pull together to keep the lakes in our community healthy," Fleming said.
Carmel Supervisor Kenny Schmitt said while Lake Casse has been an ongoing headache, other lakes in Carmel have mainly been open with many beachgoers flocking to them.
"The other lakes we're not having any issues with," Schmitt said. "They're being used on a daily basis."
While this summer hasn't been as problematic, Rogan still stressed much work needs to be done to tackle HABs. More funding is needed to get sewage treatment systems in place, Rogan said, which would costs millions of dollars. Dredging lakes is another way to cut down of HABs, he noted, which the community around Putnam Lake is interested in.
"We do have a lot of work to do," Rogan said. "Just because we're slightly better this year doesn't in any way mean this is going away. I think it'll only get only worse over time."