White Plains Harlem Fine Arts Show Postponed to March 27
We are part of The Trust Project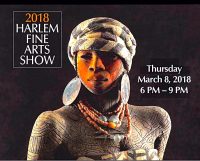 The Harlem Fine Arts Show (HFAS), a prestigious collection of works (paintings, photographs, books, and sculptures) by African-American artists, both established and emerging, will return to White Plains for its seventh year on Tuesday, March 27, 6 to 9 p.m. at the Reckson Metro Center, 360 Hamilton Avenue, White Plains. The donation for admission is $25.
The exhibit will showcase African American artists and authors from the New York metropolitan area. This year's show will include Woodrow Nash sculptures and artwork of legendary South African artist Ndabuko Ntuli, on exhibition and for sale.
Special Recognition honorees are Kenny Lee, Stephen Morton, Harriet Cole, and Tommy Moore.
Featured authors include Sarah Duckworth, Danielle Dorival, Jeffrey Craft and Bryan Collier.
The White Plains Harlem Fine Arts Show sponsorship partners include the City of White Plains Youth Bureau, the Westchester Alumnae Chapter of Delta Sigma Theta Sorority, Inc., and the Harlem Fine Arts Show. As in past years the program will feature artwork from the Youth Bureau's After School Connection and Westchester Workforce Development Academy for Youth Programs. Live music will be provided by 'Cliff Lee Plus Three'. Light refreshments will be served.
About the Special Recognition Honorees
Jazz Trumpeter, Kenny Lee, started his musical ambitions at an early age by playing trumpet in the White Plains elementary and high school jazz and marching bands. Kenny received his first trumpet lesson from his father, who also played trumpet.
Upon completion of White Plains High School, Kenny joined the Marines and played four years in the United States Marine Corps Band.
In October of 1963, Kenny joined the White Plains Police Department and retired in 1984 as a Detective 1st grade. After retiring from the White Plains Police Department, Kenny joined the Bank of New York as a Criminal Investigator and retired in 2002 as Regional Security Manager for the Bank of New York.
During this whole period, Kenny continued to play and later studied trumpet at the Westchester Conservatory of Music in White Plains.
Kenny has gained the respect of Jazz musicians throughout Westchester, Connecticut and New York City area and still continues to perform at many clubs and restaurants all over the tri state area with his band, the "Kenny Lee Allstars." The band consists of Trumpet, Tenor Sax/Flute, Piano, Bass and Drums.
Born in White Plains, Stephen Morton studied Photography and Cinema at Ohio State University. After receiving his degree, he returned to New York to practice professional photography.
Over the years, Stephen has developed a rich portfolio of images covering a broad range of subject matters. He has created countless commercial images that were utilized by magazines, newspapers, corporations, and government agencies. In addition, he has continuously expanded his collection of fine-art images, as this is his true passion and what drives his ongoing desire to grow as an artist. Stephen's unique captures of flowers, classic cars, fireworks and environmental portraiture demonstrates his passion for diverse art.
Stephen is also an established fine-art body paint artist. He creates incredible works by first applying his distinct painting techniques to the human canvas, and then leveraging his vast knowledge of lighting and composition to capture abstract poses for his final images. Stephen takes pride in his ability to mix two different artistic skills and create new works of art that crossover the traditional mediums. He has successfully exhibited these special works of art in a few local galleries and most recently as his first solo show in Ossining.
Stephen believes he is truly blessed, possessing skills that allow him to both follow his passion and have a career – something that few people are ever successful in achieving. Over the years he received many awards for his outstanding photography, while enjoying the personal satisfaction of selling his fine-art images around the country. His photographic work has been shown in numerous galleries over the years, including the Hudson River Museum, Gallery 66, and the OAC Gallery. He plans to continue to create beautiful images and explore the world through the lens of the camera for years to come.
Harriette Cole was born in Baltimore, Maryland. Her mother, Doris Freeland Cole, was an educator, and her father was the Honorable Harry A. Cole, Maryland's first African American Republican Assistant Attorney General and its elected State Senator and judge appointed to the Maryland's Court of Appeals.
Cole is president and creative director of Harriette Cole Media, Inc. (formerly Profundities, Inc.), the life coaching, style and literary production company she founded in 1995. For nearly 20 years, Cole has offered media training services to a broad range of individuals and institutions. She has supported the development of artists for Universal Records, J Records, Motown, Warner Music and Def Jam and worked with entertainers including Latifah, JoJo, Alicia Keys, Mary J. Blige, Erykah Badu, Tamar, Carl Thomas, Shontelle, Hal Linton, Cara Salimando and Neon Hitch.
Cole is a nationally syndicated columnist of "Sense and Sensitivity," an etiquette and relationship management advice column targeting diverse audiences. Cole is also a bestselling author of seven books. During her tenure as creative director and then editor in chief of Ebony magazine, Cole produced covers and features on President Obama, Michelle Obama, Michael Jackson and Prince. Cole co-executive produced a television special about the entertainer Prince that aired on The Africa Channel and was nominated for an NAACP Award.
In 2012, Cole introduced her line of hand-crocheted accessories, 108 stitches, during New York Fashion Week.
Tommie Moore was born in Mullins, South Carolina. He relocated to New York at the age of 13 with his mother Arilla Moore. Tommie started singing and playing the piano at the age of eight years old. His mother was a pianist and singer and he followed in her footsteps. Relocating to White Plains, Tommie received the opportunity to serve as a musician for Calvary Baptist Church.
Gospel Music has always been his love; he played throughout the metropolitan area in churches and doing special events. He also played professionally with bands and groups throughout the 1950's. Tommie played with the Might Up Setters and they cut a record, "Hey Little Girl." However, because of the calling on his life, Tommie moved from R & B to devote his life completely to Gospel music. Tommie served was a Musician at Calvary Baptist Church for more than forty years. He currently plays for First Community Baptist Church in Greenburgh