Harckham Secures $200K Grant to Renovate Old Town Hall
We are part of The Trust Project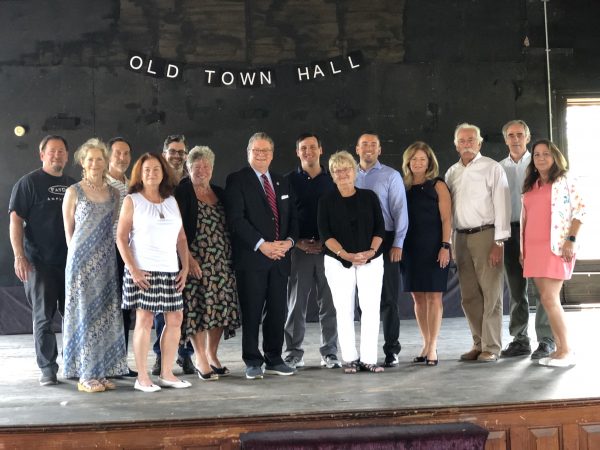 A project to renovate Old Town Hall in Brewster has been given a major boost with a $200,000 state grant.
The grant, which was recently obtained by NYS Sen. Peter Harckham, was celebrated by several elected officials from Putnam and others invested in the building, which is owned by the Town of Southeast.
Southeast Councilwoman Lynne Eckardt said she invited Harckham to a press conference at the building last October in the upstairs theater. "I believed strongly then, as I do now, that the Old Town Hall
Theater is the lynchpin for the revitalization of the village," Eckardt said. "Senator Harckham understands that an operational theater will bring residents and visitors to downtown Brewster and this in turn helps local business."
The board of the Town of Southeast Coalition for the Cultural Arts has displayed for nearly a decade "unwavering dedication and perseverance to preserve and restore Old Town Hall," Eckardt said.
The grant will be used to help start the next phase of the restoration of the building, Eckardt said.
Harckham thanked those who have been working to renovate the building. He said residents have an obligation to maintain and learn from local history.
"I really just bought into the vision," he said. "It really is a hallmark of economic revitalization, the arts."
"It's really the arts that have been the anchor of bringing back neighbors," Harckham added. "And it's also about public gathering spaces."
Olenna Truskett, a member of the Cultural Arts Coalition Board of Directors, said, "We believe that making art and enjoying it is critical to the quality of life in our community."
The Coalition has been spearheading the effort to restore the building, which is a National Historic Monument built in 1896, Truskett said. The building's theater could seat 300, she said.
"It has an ideal location on Main Street," she said, adding it is within walking distance to the Brewster Metro-North station. "Our goals for the project are to preserve the building, bring it up to code and certainly create a self-sustaining cultural arts center," she said.
The cost of the project is estimated to be between $3 and $4 million, she said. Once the money is raised, the renovation work could be completed within three years, she said.
Putnam County Executive MaryEllen Odell added she was looking forward to Brewster's Main Street being the hub that it once was.
"Without our main streets our economy in Putnam County would not exist," Odell said. Kathleen Abels, president of the Putnam County Economic Development Corporation and a member of the Coalition, said, "I think it's extremely important to keep in mind with economic development that at the end of the day it's really about enhancing the quality of life for the residents."
The building "is the gem in the crown" of the village's Main Street, Abels said.
Assemblyman Kevin Byrne said restoring the building is a "very significant investment  back into our community."