Halloween Season Dining Guide for Tarrytown, Sleepy Hollow
We are part of The Trust Project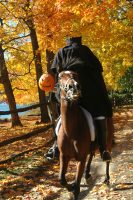 Tarrytown and Sleepy Hollow are two of Westchester County's most popular entertainment and dining destinations. This guide highlights events to attend during the Halloween celebration and provides a listing of local restaurants.
Tarrytown's leading attractions include Washington Irvington's cottage Sunnyside, railroad baron Jay Gould's Lyndhurst and the 843-seat Tarrytown Music Hall.
Tarrytown's Halloween Parade will take place Saturday, Oct. 29 at 5:30 p.m. at Patriot's Park, located next to the Warner Library, and proceed south along Broadway to Main Street. A block party and live music performances will follow.
Sleepy Hollow's 20th annual Street Fair will be held on Saturday, Oct. 15 on Beekman Avenue at 10 a.m. Downtown eateries are within easy walking distance of the parade route.
Sleepy Hollow's Haunted Hayrides begin at 7 p.m. on Oct. 28 and 29 and are followed by block parties. The ride passes the Old Dutch Church and retraces Ichabod Crane's flight from the Headless Horseman across a wooden bridge and into the dark woods beyond.
Visitors during the Halloween season to Horseman's Hollow at Philipsburg Manor in Sleepy Hollow may walk down a haunted trail, encounter terrifying creatures along the way and enter the ruins of Ichabod's Schoolhouse. Tickets can be purchased at www.hudsonvalley.org.
At the Old Dutch Church, master storyteller Jonathan Kruk will recite from Washington Irving's "The Legend of Sleepy Hollow," accompanied by spooky organ music played by Jim Keyes. The church is across the street from Philipsburg Manor. Tours of the Old Dutch Burying Ground are available.
A puppet show entitled "The Legend of Sleepy Hollow" and a walk through the woods are part of the entertainment at Sunnyside for daytime visitors throughout October.
One of the most memorable passages in Washington Irving's literary legacy is describing the pursuit by the Headless Horseman of Ichabod Crane. The two riders close in on a bridge and the schoolteacher's hopes rise.
"If I can but reach that bridge, I will be safe," Ichabod said.
The exact location of the wooden bridge where Ichabod Crane was unseated by the Headless Horseman's thrown pumpkin is unknown.
The Route 9 bridge over the Pocantico River, marked by a New York state historic sign designating it the Headless Horseman Bridge was constructed around 1912 by William Rockefeller.
A monument stands next to Patriot Park's Broadway entrance commemorating the capture of Revolutionary War Major John Andre by three American militiamen. It is inscribed, "On this spot, the 23rd day of September, 1780, the spy Major John Andre, Adjutant General of the British Army, was captured by John Pulling, David Williams and Isaac Van Wart, all natives of tis county. History has told the rest."
Evening performances at the Tarrytown Music Hall, located at 13 Main St., usually start at 7 or 8 p.m. Dinner reservations at least 90 minutes before show time at local restaurants are recommended. To purchase tickets online for performances, visit www.tarrytownmusichall.org.
Names and addresses for casual and fine dining eateries in Tarrytown and Sleepy Hollow are shown below.
Downtown Tarrytown, light food fare
Coffee Labs Roasters, 7 Main St.
Dominic's, 13 N. Broadway. (Opening soon)
Eatarry, 25 Main St.
Main Street Sweets, 35 Main St.
Posh Pretzels, 7 N. Broadway.
Muddy Water, 52 Main St.
Silver Tips Tea Room, 3 N. Broadway.
Yogurt Le Crepe, 61A N. Broadway.
Light food fare elsewhere in Tarrytown
Bagel Emporium, 350 S. Broadway.
Lighthouse Ice Cream Co., 129 W. Main St.
Starbucks, Sheraton, 600 White Plains Rd.
Downtown Tarrytown restaurants
Bellas, 5 S. Broadway.
Bibille Koren Fusion, 14 Main St.
Bistro 12, 12 Main St.
Horsefeathers, 94 N. Broadway.
Lefteris Gyro, 1 Broadway.
Little b's, 49 Main St.
Main Street Pizza, 47 Main St.
Mint Premium Foods, 19 Main St.
Mr. Nick's, 21 N. Broadway.
Pik Nik, 45 Main St.
Set Back Inn, 33 Main St.
Sushi Thai Asian, 53 N. Broadway
Swagat Halal Indian, 19 N. Broadway
Sweet Grass Grill, 24 Main St.
Tarry Tavern, 27 Main St.
Taste of China, 17 Main St.
The Oath Beer Sanctuary, 5 Main St.
The Taco Project, 18 Main St.
The Tapp, 17 N. Broadway
Twisted Oak, 61 Main St.
Restaurants elsewhere in Tarrytown
Bistro Z, Doubletree, 455 S. Broadway.
Capri, 350 S. Broadway.
Cellar 49, Tarrytown House, 49 E. Sunnyside Lane.
Coopers Mill, Marriott, 670 White Plains Rd.
Demeter's Tavern, 51 Old White Plains Rd.
Eldorado West Diner, 460 S. Broadway.
Equus, Castle Hotel & Spa, 400 Benedict Ave.
Nikko Hibachi & Lounge, 240 White Plains Rd.
Osaka Japanese Steakhouse, 134 Wildey St.
RiverMarket, 127 W. Main St.
Ruth's Chris, Marriott, 670 White Plains Rd.
Sunset Cove, 238 W. Green St.
The Tavern, Marriott, 670 White Plains Rd.
Toasted Barrel, Sheraton, 600 White Plains Rd.
Sleepy Hollow eateries
Bridgeview Tavern, 226 Beekman Ave.
Finalmente Trattoria, 31 Beekman Ave.
J.P. Doyle's, 48 Beekman Ave.
Mancora, 180 Valley St.
Palmas Brazilian Grill, 60 Clinton St.
River Grill, 222 Beekman Ave.
Santori, 175 Valley St.
Seaspice, 128 Cortlandt St.
The Horseman, 2176 N. Broadway.
The Huddle, 92 Beekman Ave.
Wasabi, 31 Beekman Ave.
The Greater Sleepy Hollow Tarrytown Chamber of Commerce is located at 1 Neperan Rd. in Tarrytown. It can be reached at 914-631-1705 or at www.greatersleepyhollowtarrytown.com.