"Hairspray" Holds it Extra Firm at WBT
We are part of The Trust Project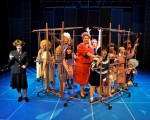 Expectations can be high when visiting The Westchester Broadway Theatre (WBT) to see "Hairspray" considering the show's successful journey from film to stage and back to film.
Indeed, any production of "Hairspray" has several tough acts to follow, certainly in terms of the seminal characters created by such luminaries of stage and screen as the divine Devine as Edna Turnblad in the original 1988 John Waters film that also launched the career of Ricki Lake as Tracy Turnblad.
That was followed by the 2002 Broadway version with Harvey Fierstein as Edna with the deepest, most gravely voice ever found among men in drag.
Then there was the return to the movies in 2007 of the musical version with John Travolta as Edna, the portrayal I liked least, feeling throughout the movie that I was watching a wimpy Edna, rather than an indomitable one, with the most awful interpretation of a supposed Baltimore accent.
This endearing story of triumph over all odds where a chubby young high school student becomes a dancing sensation on the Corny Collins Show at a local Baltimore TV station, succeeds in integrating that show in the 1960s setting, and snags the school hunk in the process, always gets the heart pumping with its premise and appealing rock and roll score.
And, at WBT, this production soars close to the heights of its predecessors and in a few instances, actually surpasses them, especially with the characters created by its exceptionally strong cast.
For instance, Edna's husband, the gag shop owner, is decidedly on a par with the characterization Christopher Walken created in the 2007 film, but with a juiced up persona.
Tad Wilson as Edna Turnblad plays it straighter, if that's possible, than any of his predecessors, and perhaps more humanly.
When I saw the ads for the show picturing Erin McCracken as Tracy Turnblad, I thought that she might be too attractive for the role as we've come to embrace it. But from the moment Ms. McCracken jumps out of bed to welcome a new day to Baltimore to the takeaway show closer, "You Can't Stop the Beat," she is on an energy level that runs high octane.
Tripp Hampton as Tracy's heartthrob has one of the more beautiful voices presented on this stage.
A standout is Pat McRoberts as Corny Collins, host of the American Bandstand inspired dance show. He perfectly projects a smile that freezes for the television camera, but comes alive as a real progressive to smash the show's policy for segregation of the races.
The villainess role of Velma Von Tussle is played by Ann Van Cleave, who is deliciously over the top, especially when she reminisces in song about her early reign as "Miss Baltimore Crabs."
The real scene stealer whenever he appears is Scott Colcagno who plays multiple roles, including Harriman F. Spritzer, the show's hairspray sponsor, Mr. Pinky of the big girls dress shop and, among others, the hunched-over, spectacled school principal. His exit alone, with his crunched up posture and creepy gait stops the show.
And Motormouth Maybelle, as sung and played by Inga Ballard, is rich, deep and conciliatory.
By Bill Primavera
All songs by Marc Shaiman and Scott Wittman are irresistible without a sour note in the bunch.
The stage is set for fun even before the show begins by its set, moveable panels in bright electric pinks and teals. Musical direction by Leo Carusone leads the rush to rhythm and the direction and choreography by Richard Stafford, is pure Busby Berkeley, only on a smaller stage.
Not to be missed, this "Hairspray" completes its run on June 3 (more musicals each season now require shorter runs), so be sure to call for dates, times and prices before it's too late. That number is 914-592-2222 or visit www.broadwaythreatre.com.