Groundbreaking Held for New Lowe's Store on 202 in Yorktown
We are part of The Trust Project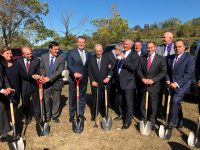 A ceremonial groundbreaking was held Thursday for a new Lowe's home improvement store on Route 202 in Yorktown.
The 124,000-square-foot project, being constructed on a 24-acre site just off the Taconic State Parkway that has been vacant for years after once housing a homeless shelter, will be only the second Lowe's store in Westchester County when it opens in November 2018.
"This is great day for the Town of Yorktown and this is a great day for New York State. A shovel is going into the ground today," said State Senator Terrence Murphy (R/Yorktown), who supported a former Costco proposal for the same property when he was a Yorktown councilman. "It was said that this would never happen and look where we are today."
Murphy was joined by other dignitaries at the event, including County Executive Rob Astorino, and Yorktown Supervisor Michael Grace, who said the project would help revitalize the town and bring more business and jobs.
"We are cutting through the red tape to get shovels in the ground for great projects like this one," Grace said.
The project, being developed by Breslin Realty Development Corp., will also include three other buildings that will house two restaurants and a bank, creating roughly 200 permanent jobs. The construction work will also create approximately 400 temporary full-time jobs, officials said.
"We are all excited about having Lowe's come to Westchester County. This is a wonderful spot for it and Yorktown is moving forward," Astorino said. "This is important, economic development is important. It's not just the 200 permanent jobs that are going to be here and the 400 construction jobs, but it's the sales tax and another reason to shop in Westchester County."
While Costco was originally projected for the location, Breslin Realty stepped in after the project fell through. Wilbur Breslin, Chief Executive Officer and Chairman of the Board for Breslin, said getting Lowe's off the ground required a lot of patience with several delays at the state level.
"I needed a lot of help and we had a lot of friends help to make this deal happen," Breslin said. "It's been worth the wait for residents of the region to have a great home improvement store on the property that has become an eye sore for many years."
Eric DiBartolo, president of the Yorktown Chamber of Commerce, expressed his excitement for the new development, stating how ecstatic the Chamber of Commerce is to fill the vacant lot and create constant work.
"We have never had a project like this come forward," DiBartolo said. "Projects like this can be successful only when government, business and the community work together."