Griffin Unveils Tentative 2013 Patterson Town Budget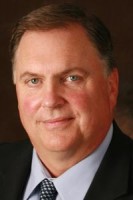 Saying he had both "good news" and "bad news," Patterson Town Supervisor Michael Griffin released his tentative $6.6 million 2013 town budget last week that will entail a one percent tax increase in the tax levy.
"It's half of what the state says we have to do," Griffin said at the Sept. 12 town board meeting, referring to the state-mandated two percent tax levy cap.
In his budget message, Griffin said, "The bad news is, the town's contribution to the New York State Retirement System has hit the highest rate since I've been town
supervisor. Next year we will be paying 21.6 cents on every dollar for most of our employees. Pension costs will increase to more than $500,000 annually. NYSHIP is anticipated to increase 10 to 13 percent next year, driving benefit costs to over $740,000 annually. The state has also eliminated the $20,000 in state aid for the annual update of the tax rolls."
Paired with these cost increases and loss of state aid, is an expectation that revenues will not be increasing to fill the gap, Griffin said.
"I don't expect mortgage tax revenue to increase significantly. I believe property values could see another decrease and I don't expect a major pick-up in housing construction, home improvement or commercial projects," Griffin said. "If that scenario holds true, we can expect no help in revenue increases from the department involved with these services."
There were some positives to report, Griffin said.
"The 'good news' is we received the courthouse grants totaling $1.25 million. The use of these grants allowed us to restructure our current debt service and reduce the amount of fund balance needed for this year's budget by 55 percent or $154,000, which will leave $781,659 or a 20 percent fund balance going forward," Griffin said. "Also, through the efforts of the employees, we have kept expenses down and I don't anticipate using all of the fund balance originally budgeted for 2012."
Griffin said the tentative budget proposed the elimination of one position at the highway department.
A town board work session on the tentative 2013 town budget is scheduled for 3:30 p.m. this Wednesday, Sept. 19 and a public hearing on the proposed budget will be held on Wednesday, Oct. 10. The town board is expected to adopt a final budget on Wednesday, Oct. 24.