Greenburgh Sports Bubble Is a Go
We are part of The Trust Project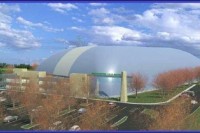 A press announcement Thursday from Game On 365 project manager Martin Hewitt said the Greenburgh Sports Bubble project is back on after opponents to the project, Elm Street Sports Group and other petitioners, elected to drop their lawsuit.
This comes after receiving Game On 365's motion seeking sanctions and the dismissal of the suit. Game On 365's motion exposed many self-contradictory statements made by Elm Street President Donald Scherer.  It also exposed testimony made by Burst the Bubble President Simon Cohen regarding his financial arrangement with family members of Elm Street Sports Group. Notably, in responsive papers, the petitioners failed to squarely address these facts and instead dropped their lawsuit.
"We are glad that the frivolous litigation is now behind us, and we look forward to making our indoor sports facility a reality for everyone to enjoy," Hewitt said.