Greenburgh Looks to Reach Compromise on Leaf Blower Law
We are part of The Trust Project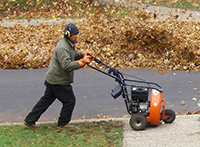 Greenburgh residents continue to remain split on a proposed law that aims to regulate leaf blowers as calls for compromise are being made while others are pressing a ban must be enforced to preserve public health.
Following a second public hearing held last month where residents went back and forth on the proposed law for over an hour, Town Supervisor Paul Feiner suggested the Town Board tweak the proposal and work to reach a compromise. With leaf blowers a point of contention in recent years, he urged it might be the best approach.
"If we would consider a compromise, it's obviously not going to satisfy everyone, especially the ones who want a leaf blower ban, but we might have a better chance of getting everyone to comply to a compromised law because we're not saying you can't do it ever, we're basically giving people options," Feiner said during the April 14 meeting. "This is a very difficult law to enforce unless we educate and get everybody working together as a team."
The proposed law would only allow blowers – both gas and electric – to be used from March 1 to May 15 and October 15 to December 15. During those specified periods, use of blowers would be permitted between 9 a.m. and 3 p.m. Monday through Friday and 10 a.m. to 5 p.m. on weekends and legal holidays.
All types of blowers would be prohibited the remainder of the year, according to the proposed law.
Violators would be subject to a written warning for the first offense, $100 for the second infraction and $250 for the third and $500 for any subsequent offenses. If the owner or renter of the property where the violation occurs is not the person operating the blower, the property owner or renter would also be subject to a separate fine in the same amount, the proposal states.
The law would be enforced by the Greenburgh Police Department, the Department of Community Development & Conservation, and the Building Department.
In the event of a weather emergency, like a hurricane or nor'easter, the town would have the authority to suspend the use of any blowers for any amount of time. Any directives would be posted on the town website and communicated to the police department and community development and conservation department.
Exemptions to the law would include debris clean-up resulting from town authorized tree removal and within two feet of outdoor equipment such as air conditioning compressors, generators and other outdoor machinery and related piping exposed above ground. Any work conducted by the Department of Public Works affecting public safety on roadways, walkways, and road islands would also be exempt.
That work would require prior authorization for extenuating circumstances, such as special events, equipment malfunctions, equipment shortages and personnel shortages.
Use of blowers for activities of the Department of Parks & Recreation would be exempt. Authorization would also be mandated, according to the proposed law.
Additionally, restrictions would not apply to the Hartsdale Public Parking District between 9 a.m. and 11 a.m.
Those in favor of the law believe the health impacts stemming from leaf blower usage are too significant to ignore, imploring the board to refer to the science and act quickly.
"I think there's an awful lot of compromise in the proposed legislation… and there doesn't seem to be any comparison between the two arguments in my view," resident Phil McGrath said. "I think the impact this has on people's health, hearing and respiratory illness, it's just far too compelling to say that you want the convenience of being able to use those things."
Dr. Kenneth Spaeth, a resident and physician with Northwell Health, noted that the science behind the risk leaf blowers pose is significant. With leaf blower reaching up to 100 decibels, he said it can cause noise induced hearing loss, something he said is an "unrecognized epidemic."
Furthermore, Spaeth explained how microscopic particles, including allergens, fecal matter, pesticides, and herbicides, can stay in the air and travel for up to 24 hours with leaf blowers generating speed up to 270 mph. With the speed equating to that of a Category 5 hurricane, he said the mixing particles can have a harmful impact on the respiratory system.
"The exposure doesn't stop when the leaf blower is turned off, it continues for hours, up to a day after the release of the leaf blower," he said. "The bottom line is the more that's done to reduce the exposure and restrict the use, the risks for all the health outcomes are lower."
However, residents who at one point were in opposition of the law want more compromise before anything is passed. One resident requested golf courses be included as an exemption.
"I think there needs to be exceptions for homeowners, for landscapers, for the town," resident Peter Brown said. "I'm against the ban but for compromise… but people in favor of the ban there seems to be no wiggle room with them which is concerning to me."
If passed, Greenburgh would join over a dozen area communities that have either passed similar laws or are attempting to regulate lawn equipment.
Last September, New Castle officials unanimously approved a law prohibiting the use of gas-powered leaf blowers from June 1 through Sept. 30. In Croton-on-Hudson, the Village Board has opted to revise the entire proposal and delay its implementation to next year.
Pleasantville officials are also discussing a ban to limit noise and air pollution and reduce health impacts. The proposed ordinance would allow leaf blowers to be used only in spring for two weeks and for a three-week period in fall. The weeks where they could be used would depend on the weather. Operation would be allowed after 10 a.m. on Saturday and after noon on Sunday.