Greenburgh Considering Re-evaluation
We are part of The Trust Project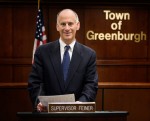 The Town of Greenburgh is looking to do something about its eroding tax base.
Supervisor Paul Feiner said the town is looking at working with the City of Yonkers on re-evaluating all properties within the town so that they would be properly assessed.
Re-evaluation has not been done in more than 50 years, and recently municipalities across Westchester, including Greenburgh, have been taking a hit with tax certioraris .
"We are losing so much money on tax certioraris," Feiner said. "We are throwing out money by not doing anything."
Feiner estimates that the town has lost more than $10 million in tax certioraris, further eroding its tax base at the same time it faces a 2-percent state-mandated cap on the tax levy increase.
"Hopefully we can stop all the bleeding with these tax certioraris," Feiner said. "Stability and predictability in this area is needed."
Feiner said that on the current track the town is on, services would have to be cut to meet the tax cap. While there is no timetable for the project, Feiner said he expects it to cost $4 million.
Town Assessor Edye McCarthy did not respond to multiple requests for comment. Christina Gilmartin, the Director of Communications for Yonkers Mayor Mike Spano, said she doesn't know how the two municipalities will be related, but they are both interested in leading the charge on revaluation.
"Yonkers last did a revaluation in 1954," Gilmartin said. "We desperately need to get it done and put everyone on local ground. We support Paul Feiner on this."
Spano's proposed 2013 budget has funds earmarked for revaluation, and Gilmartin said it could take from 3 to 4 years to be completed.
"They are trying to see how they can roll this out," Gilmartin said. "This won't happen overnight. Yonkers and Greenburgh share a lot of common properties. A lot needs to be done."
Like Greenburgh, Gilmartin said that Yonkers has been losing money from tax certioraris.