Green Chimney's Dentist Recognized for Years of Public Service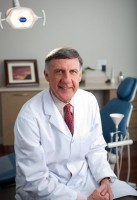 Dr. Roderick MacRae of Putnam County Receives the 2012 Richard Spolzino Humanitarian Award
Dr. Roderick MacRae, a dentist practicing in Patterson, has been awarded the Richard G. Spolzino Access to Care Humanitarian Award by the Ninth District Dental Association, a component of The New York State Dental Association and The American Dental Association. The award is presented annually to a "true professional" as evidenced by their service to the public and the community in need.
The award was given in recognition of Dr. MacRae's contributions over more than three decades to increase access to dental treatment for traditionally under-served populations including the developmentally disabled and under-served children.
His past efforts include serving as team dentist for the Operation Smile project in Vietnam, Co-Founder and Chairman of the NYS Task Force for Special Care Dentistry, an organizer of the Putnam County School Screening Initiative, and advisor to the United Cerebral Palsy Association of NYS in which capacity he organized five dental clinics in the Hudson Valley Area for under-served patients. He is currently the Attending Dentist at Green Chimneys, a renowned non profit school and human services agency, where he has also served as President and Chairman of the Board of Directors.
Green Chimney's Executive Director Joe Whalen said he was grateful to his long-time friend and colleague for his years of service to Green Chimneys.
"He is a humanitarian in every sense of the word, and truly deserving of this honor," Whalen said.
After graduation from Binghamton University and following service in Vietnam, where he was awarded the Bronze Star for Meritorious Service, he attended the University of Buffalo School of Dental Medicine where he graduated in 1978.
Dr. MacRae is an adjunct assistant professor in the division of Community Health at the Columbia University School of Dental Medicine and has lectured extensively to local, state and national groups including the American Association of Public Health Dentists and the Federation of Special Care Dentistry.
Locally, he has been a member and past president of the Patterson Rotary Club, a member of the Putnam County United Way Board of Directors, has worked on projects with the Putnam County Department of Health and is a member of the Mahopac National Bank Business Development Board. He maintains a private practice in Patterson, NY.
In his acceptance remarks, Dr. MacRae noted that curiosity, awareness of the needs, and the skills of the profession provide the energy that fuels the drive to accomplish these deeds.