News Based on facts, either observed and verified directly by the reporter, or reported and verified from knowledgeable sources.
Greeley, Yorktown on Class B Collision Course
We are part of The Trust Project
Somers Reaches Class C Semis; Briarcliff Cruising in Class D
By Tony Pinciaro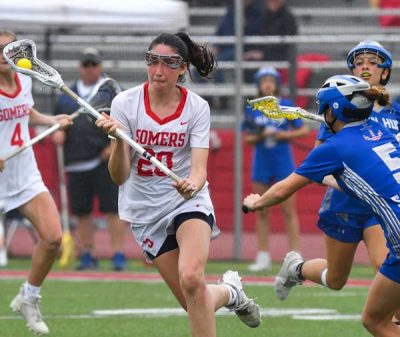 Fiona Brown was primed to have a huge senior year, especially after foot issues hampered her for the 2022 Horace Greeley girls' lacrosse season.
"Last year was really a struggle because it was so hard to run up and down the field," said the senior and captain, who will attend the University of Maryland in September. "I wanted to be on the field helping my team instead of on the sideline cheering them on. I was 100 percent ready for the season, so I was happy to be back and was very excited about the season."
Brown has been front-and-center as the leader on defense for a Horace Greeley team that earned the top seed in the Section 1 Class B Girls' Lacrosse Championship where the Quakers, after a first-round bye, handled No. 8 Mahopac, 21-11, in a quarterfinal.
Horace Greeley (14-3 this season) will host No. 4 Ursuline in a semifinal, Tuesday, May 23. The other semifinal has No. 6 Harrison playing at No. 2 Yorktown. The semifinal winners will play for the title, Friday, May 26, 6:30 p.m., at Nyack High School.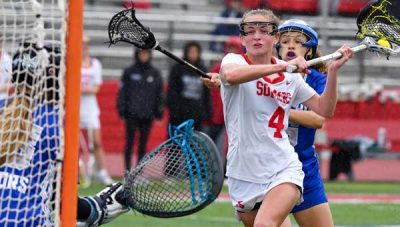 Brown and her teammates know they have unfinished business, especially after 2022. Last year, the Quakers went undefeated during the regular season only to be upset in a semifinal by Somers, now in Class C.
"Somers is an amazing team and they've beaten us two years in-a-row in sectionals," Brown said.
Since the Quakers lost three games early in the season, they have been on a roll.
"We are on a high right now and we know we have great and positive energy going into sectionals," Brown said. "We have been working on keeping our energy level up. We've also been focusing on team bonding."
The team bonding began during the winter season when the varsity and JV teams worked out twice a week. The Quakers worked on stickwork for the first half of the workout then worked with trainers. Brown said varsity also played in a winter league on Sundays at Manhattanville.
Even though the Quakers were the clear favorite against Mahopac, Brown and her teammates did not take anything for granted. They arrived two hours early in preparation for the game, despite the steady rain all day.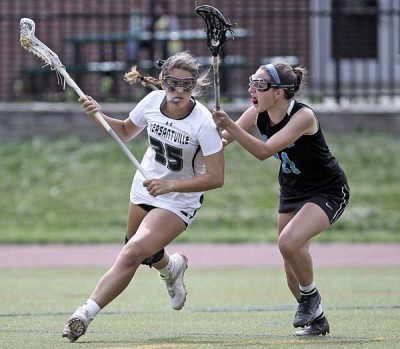 "The energy was there and the captains were hyping up the team," Brown said. "We made sure we were prepared for the rain, even though we had not played in a steady rain this season. We made sure we all brought rain gear because we knew we had to adapt to the slick conditions and we all adapted to it well."
The offense was not affected by the rain as Erica Rosendorf and Bae Bounds each scored a game-high six goals. Tatum Walsh added five goals and Rowan Edson had four goals.
At this stage, not only are the Quakers focusing on lacrosse, they are also making sure their minds and bodies are remaining healthy. Brown pointed out that the past couple of weeks have been difficult academically, especially for those student-athletes who took year-end Advanced Placement exams.
"I think we need to care for our bodies, especially after all of these practices and games," she said. "We have to make sure we are doing extra stretches, staying hydrated and eating healthy."
Fourth-seeded SOMERS finds itself facing a familiar foe in a Section 1 Class C Girls' Lacrosse Championship semifinal, Tuesday, May 23.
The Tuskers, after beating Ardsley, 19-4, in the first round, and Hen Hud, 10-5, in a quarterfinal, will face top-seeded and two-time defending champion John Jay-Cross River.
John Jay has defeated Somers in the last two Section 1 Class C championship games. The Wolves also defeated the Tuskers in a regular-season game.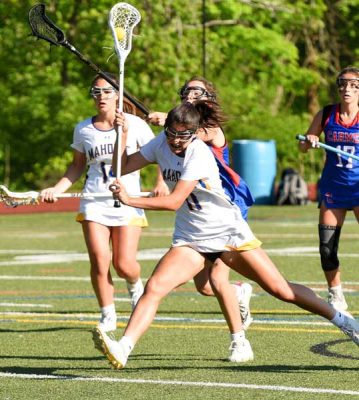 "We learned that John Jay is an extremely-talented team," said senior and captain Lauren McCartin, who will attend Yale in September and also play lacrosse. "They have a very strong ride so we have been focusing on our clears and transitions.
"We are definitely motivated to play John Jay again," she added. "Coach Daly and Coach Burnard always remind us to find our fire before the game and we are determined to do that against John Jay."
McCartin fueled the offense against Ardsley with five goals. Maddie Lyle, Teagan Ryan and Mia Paulmeno had three goals apiece. Molly Fink rang up six assists, including the 100th of her varsity career, and the tandem of Julia McCartin and Ella Lassen each scored their first varsity goal.
Sydney Ingraham had a game-high five goals and three assists and Lauren McCartin added three against Hen Hud. McCartin also had six draw controls and Campbell Sternberg made 11 saves.
The Tuskers erupted for seven second-half goals.
PLEASANTVILLE opened the Section 1 Class D Girls' Lacrosse Championship with a pair of impressive wins.
The third-seeded Panthers defeated No. 14 Rye Neck, 16-6, in the first round and then eliminated No. 6 North Salem, 13-5. Pleasantville outscored North Salem, 12-1, in the first half.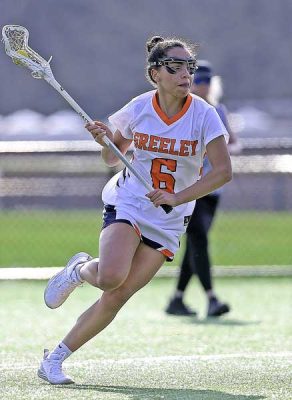 Pleasantville played at No. 2 Bronxville, Monday, in one semifinal. The other semifinal, also played Monday, was No. 12 Albertus Magnus at No. 1 Briarcliff.
The semifinal winners play for the title, Thursday, May 26, 4 p.m., at Nyack High School.
Erin Drillock paced the Panthers with four goals and four draw controls against Rye Neck. Ella McCourtney added two scores and three draw controls and Cadence DeLuca and Gianna Doto scored two goals apiece.
Drillock also scored four goals against North Salem. Brown added three goals, two assists and four draw controls and McCourtney finished with two goals and five draw controls.
Following a first-round bye, top-seeded BRIARCLIFF played No. 9 Croton for the second time in a week.
And for the second time, Briarcliff came away with a victory. This time the score was 10-6 in a Section 1 Class D Girls' Lacrosse Championship quarterfinal.
Briarcliff hosted No. 12 Albertus Magnus, Monday, in a semifinal. The other semifinal, also played Monday, was No. 3 Pleasantville at No. 2 Bronxville.
The semifinal winners play for the Section 1 Class D title, Thursday, 5/26, 4 p.m., at Nyack High School.
Ava Swidler paced the Bears (15-0) with three goals and two assists. Nicky Einhorn contributed two goals and two assists and Riley Hite added two scores. Diana Jones had two helpers and goalie Dani Siegel made five saves.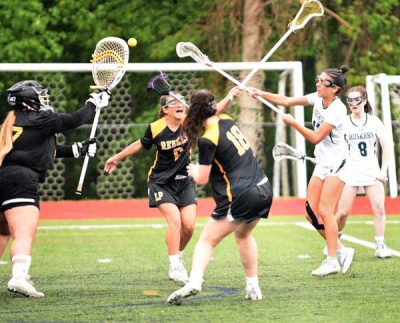 Second-seeded YORKTOWN received a first-round bye in the Section 1 Class B Girls' Lacrosse Championship then showed the day off did not affect it.
Clemson-bound Alex Scialdone recorded a hat trick and four assists in the Cornhuskers' 13-7 win over seventh-seeded Lakeland/Panas. Yorktown will host No. 6 Harrison in a semifinal, Tuesday, May 23. The other semifinal, also Tuesday, will be No. 1 Horace Greeley hosting No. 4 Ursuline. The winners will play for the Class B title, Friday, May 26, 6:30 p.m., at Nyack High School.
Gianna Altimari and Sophia Butcher each added a hat trick. Altimari also collected six draw controls. Ava Cunneen scored twice.
LAKELAND/PANAS had an excellent season under the tutelage of the DiSisto sisters – Leah and Marissa.
The Rebels, seeded seventh in the Section 1 Class B Girls' Lacrosse Championship, beat No. 10 Clarkstown South, 9-7 in a first-round game. However, Yorktown, the second seed, defeated the Rebels, 13-7, in a quarterfinal.
Freshman Brooke Pizzarello scored four goals and junior Isabel Kocaj added three scores against Clarkstown South. Kaelen Sieja made nine saves, surpassing 200 for her varsity career.
Kocaj and Pizzarello each netted three goals against Yorktown and Clare Warren handled five draw controls.
"We went into the season with the understanding that it would be a growth and building year," said Leah DiSisto, who played lacrosse for the Rebels as well as was the starting goalie on Lakeland's 2006 Class A state-champion field hockey team. "The girls worked hard and took away so much knowledge to bring into next year.
"The Lakeland/Panas coaching staff is so proud of all that was accomplished and thankful for the great memories that were made."
WESTLAKE opened the Section 1 Class D Girls' Lacrosse Championship with a 20-10 victory over No. 7 Haldane.
The 10th-seeded Wildcats faced second-seeded Bronxville and came out on the short side of a 16-5 final score.
The Wildcats concluded the season at 9-9, including coach Dan Smith registering his 100th win.
"We are really proud of the team this year," Smith said. "We came together early and managed a difficult season of all away games and long bus rides because of field renovations.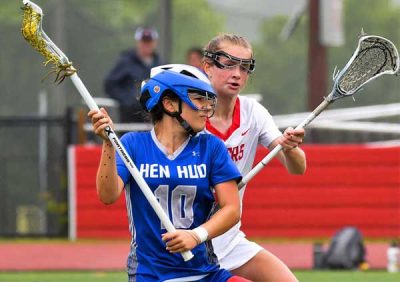 "We have a bright future ahead and I can't wait for our next season."
In the victory over Haldane, Fran DeMartino led the Wildcats with seven goals and Maeve Walsh added six goals. Shaina Picucci finished with four goals and Jillian Raguso and Lia Prosperino each recorded three assists. Prosperino also collected 10 draw controls.
DeMartino led Westlake in scoring with 56 goals and 22 assists and Picucci was second with 40 goals and 27 assists.
HEN HUD was seeded fifth for the Section 1 Class C Girls' Lacrosse Championship and the Sailors began with a 16-2 win over No. 12 Eastchester. The Sailors then faced 2021 and 2022 Section 1 Class C runner-up Somers in a quarterfinal and the fourth-seeded Tuskers prevailed, 10-5.
Audrey Bakker rang up a game-high six goals and Paige Montgomery had five goals and four assists over Eastchester.
Kayla McCarthy, Caitlin Pignitaro and Antonia Escobar-Cooper each finished with one goal and one assist.
Montgomery scored twice and added an assist against Somers and Eastern Michigan-bound Madison Porter made eight saves in the final game of her outstanding career.
MAHOPAC drew archrival Carmel in the first round of the Section 1 Class B Girls' Lacrosse Championship and the Indians came away with a 13-7 win. The Indians, seeded eighth, encountered top-seeded Horace Greeley and the Quakers won, 21-11.
Mahopac outscored Carmel, 7-4, in the second half as Juliana Mangione and Ashley Koch rang up five goals apiece. Mangione also had two assists. Katie Watts scored a season-high eight goals in the loss to Greeley.
HALDANE had a memorable second varsity season as the Blue Devils finished the regular season with a 10-6 record, earning the No. 7 seed in the Section 1 Class D Girls' Lacrosse Championship.
Even though the Blue Devils lost to No. 10 Westlake, 20-10, coach Keri Dempsey termed the season a success.
"The team played very tough this season and worked extremely hard every game and every practice," Dempsey said. "We added a lot of new girls to our roster this year and they all blended right in with the returners. It was a crazy season with scheduling changes every week and having a bunch of games back-to-back during the week, but the girls always showed up ready to hustle and played their hearts out on the field.
"I can't believe how much this program has grown over the last few years, and I am excited to see what the future holds for this program."
Senior Mairead O'Hara registered a team-best four goals against Westlake and finished with 39 goals and 19 assists this season. Freshman Kayla Ruggiero added a hat trick and posted a team-leading 49 goals and also had nine assists. Carmela Cofini and Caroline Nelson each had a goal and an assist. Lola Mahoney made 14 saves, including the 300th of her varsity career.
Dempsey cited the defensive play of senior Moretta Pezzullo, calling her the team's backbone on defense.
CARMEL earned the No. 9 seed in the Section 1 Class B Girls' Lacrosse Championship and with it a first-round game with arch-rival Mahopac. The Indians handed the Rams a 13-7 defeat.
"We finished 5-12, but most of our team is underclassmen," said Carmel coach and program founder Kerry Hackert. "The young kids did well and our returners improved as the season went on! They are a great group of young women and we look forward to the future!"
Kayla Gard had a hat trick, Sophie King added two goals and Faith Mahoskey collected two assists.
PUTNAM VALLEY qualified for the Section 1 Class D Girls' Lacrosse Championship as the 15th seed, but lost to No. 2 Bronxville in the first round.
Junior Ava Harman and eighth-grader Ella Wendol had the Tigers' goals and Summer Scrocca made seven saves.
"I am proud that the girls made sectionals this year," Putnam Valley coach Amanda Vasta said. "There was significant growth happening each year. It was a great season."
BYRAM HILLS, the No. 7 seed, won its Section 1 Class C first-round game against No. 10 Edgemont before a loss to No. 2 Nyack in a quarterfinal.
Anastasia Byrnes scored eight goals in the 16-6 triumph over Edgemont and she also had two assists. Keira Eckhardt had a hat trick and Lucianna Parrotta and Ryan Milim each scored two goals.
FOX LANE, OSSINING and BREWSTER did not respond to attempts for their information.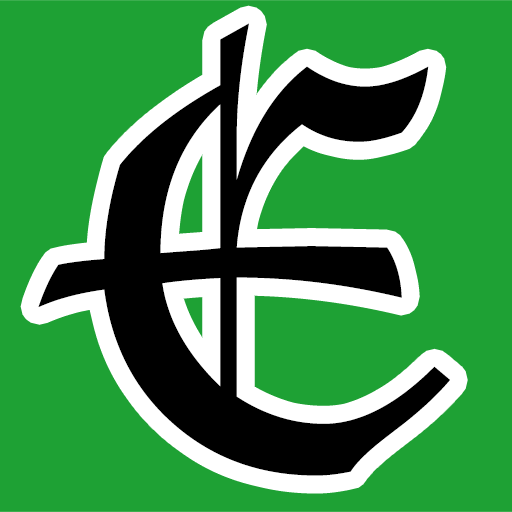 Examiner Media – Keeping you informed with professionally-reported local news, features, and sports coverage.