News Based on facts, either observed and verified directly by the reporter, or reported and verified from knowledgeable sources.
Greeley Sets Pool on Fire, Repeats as NYS/Federation Champs
We are part of The Trust Project
L/P/PV Swimmers DQ'd from Relay Race for Cap/Emblem Infraction
By Martin Moran For Examiner News
Examiner Sports Editor Ray Gallagher contributed to this story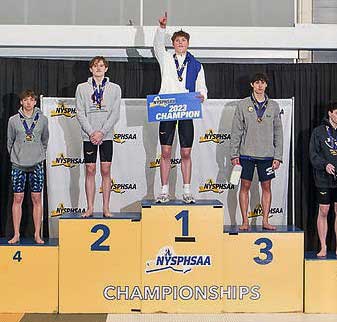 In an epic competition, the Horace Greeley boys' swim team achieved a historic second consecutive NYSPHAA/Federation title at the Kelsey Partridge Bird Natatorium Saturday at Ithaca College this weekend.
In excess of 80 schools with a total of 433 athletes participated in front of a boisterous, capacity crowd assembled from all parts of the Empire State.
Qualifying to compete at the meet were a dozen teams from 19 Section 1 high schools.
The powerhouse Section 1 teams totaled 715.50 points at the meet with the closest competitor being the CHSAA with 408.50.
"It was great to cheer on my teammates and swim with so many of my friends from Section 1," said Will Fagan, a swimmer from Lakeland. "It was great to cheer on my teammates and swim with so many of my friends from Section 1."
The Quakers posted a 50-point victory margin over the nearest competitor from Pittsford.
Section 1 schools dominated with first, third, fourth and fifth-place finishes from Greeley, Clarkstown, Scarsdale and AHEDI (Ardsely-Hastings-Edmont-Dobb Ferry-Irvington), respectively.
The competition wasn't without significant controversy.
A talented Lakeland-Panas-Putnam Valley (L/P/PV) squad, while qualifying to swim in the finals, was disqualified for having two small American flag patches on one of the swimmer's caps.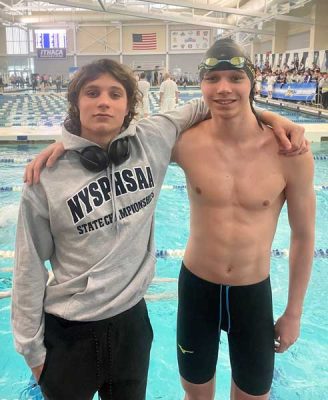 It's a rule that applies to the display of any patches (just one 2×3 inch decoy allowed per cap other than the school emblem).
However, many spectators stressed how an exception should have been made for the American flag. Critics noted how officials could have told the swimmer to change caps or go inside-out rather than blindly follow the policy.
"Probably 98 percent of officials out there would have told the swimmer to reverse his cap or take it off or get another," Lakeland/Panas A.D. Chris Belfi said. "Every swimmer has more than one cap on them. It wasn't one flag, but two flags on the cap that made them make this call. Some officials are sticklers for rules and this needs to be addressed at the top levels."
Belfi said how disappointing it was for the swimmers to be disqualified on a technicality.
"While, yes it is a rule, preventive officiating may have provided an opportunity for the cap to be changed and/or turned inside out, which this athlete did later in the championship meet," Belfi said. "I'm extremely proud of how our boys have handled themselves and they have continued to hold their heads high with the accomplishments they've had this season."
Belfi said he's have spoken with the executive director of NYSPHSAA regarding this situation, and held conversations internally within Section One.
"These conversations have included the potential for review of this rule and the process for that, so that in the future other student-athletes may not be denied opportunity because of a uniform technicality of this nature," he remarked."
Due to the circumstances, Belfi wanted to congratulate swimmers by name — Alex Gorzula of Lakeland, Will Fagan of Lakeland, Ronan White of Walter Panas and Gabe Rzezwicki of Putnam Valley.
"It truly is a huge honor and accomplishment to qualify for a NYSPHAA championship," he said. "I'm very proud of them and their accomplishments."
Putnam Valley officials expressed astonishment at the ruling. A pair of L/P/PV relay swimmers essentially made the trip to Ithaca for nothing. Officials later allowed the swimmer in question to contest his other two races after changing caps.
"My issue remains, adults had the ability and opportunity to resolve the technicality, but instead opted to punish students," Putnam Valley Superintendent Dr. Jeremy Luft stated. "I remain steadfast against punishing these students, especially when the issue could have been resolved in 30 seconds, probably in less time than it took to DQ the team. How can you be DQ'd from a race that hasn't even started?"
After a frenetic Friday of final qualifying was completed, the excitement and tension filled the air, as the last notes of the Whitney Houston recording of the national anthem echoed throughout the Olympic-size natatorium.
The kick-off event was the 200 Medley Relay where excellent relay squads are essential — points are double the amount that can be won in the individual events.
The Greeley squad of Ollie Engel (back), Erick Nadecki (breast), Jack Moran (fly) and Trey Schlomann (free) ignited Greeley's day by seizing third place and a bronze medal.
Clarkstown outstretched the Quakers to earn a silver while Scarsdale took a solid sixth.
The 200 IM, the most demanding of any individual race, saw Christian Lee of AHEDI take 2nd place silver and automatic All-American, while Erik Nadeck of Greeley copped 3rd place bronze and All-American consideration.
Aidan Lee of Scarsdale took 6th with Luke Dwyer of Clarkstown 12th, Oliver Engel of Greeley 13th, Alex Gorzula of LPPV 16th, Kevin Jiang of Scarsdale 21st, and Zachary Arnold of Byram Hills-Pleasantville 29th.
In the 50 free flash and splash – where the top 20 competitors were divided by just over a single second – Gabe Rzezwicki of LPPV swam to a bronze medal 3rd place and All-American consideration, just three one hundredth of a second off gold.
Greeley's Connor "Lightning" McHugh swam to a 9th place finish just eight one hundredths of a second behind gold.
In addition, a sportsmanship award is bestowed on one swimmer from each section and Connor McHugh, in addition to his swimming exploits, was awarded this honor for Section One.
The 100 fly saw Luke Dwyer and Joe Coleman of Clarkstown with 11th and 26th place finishes, respectively, Hudson Chung of Greeley at 28th and Dylan "the Scottish Hammer" Gourlay taking a 29th for Fox Lane. The twisting, turning and torquing of the one meter dive competition resulted in a 5th place finish for Yorktown's Jay Wilkinson and 6th place for Haochen Liu of Scarsdale among the 25 finalists.
The 100 Freestyle, another all-out free-for-all, with the top 10 finishers separated by a little more than 1.5 seconds, saw Christian Lee of AHEDI win 3rd place bronze and All-American consideration. Greeley's "Lightning" McHugh saw 6th, Rzezwicki of LPPV 7th.
The one long distance event of the meet is the grueling 500 free. Patrick Cortelli of Clarkstown captured 5th, Phil Thayer of AHEDI  7th, Jack Cornish of Greeley 9th, Zach Arnold of Byram Hills/Pleasantville 10th, Harrison Lambert and Avi Stahl of Scarsdale at 12th and 18th, respectively. Arde Suer of Mamaroneck placed 22nd and Eric Engel of Greeley 25th.
The second of the three relays is the 200 Free Relay, a super fast and competitive event. AHEDI's team of Franks, Thayer, Scholz, and Lee took 4th, a little more than a second behind 1st.  While Greeley placed 7th with Gulotta, Lynch, Schlomann and McHugh a little less than 2 seconds behind gold.
The final event of the day was the 400 free relay. The Quakers captured 1st with a scintillating time of 3:05.53 which is a Greeley, Sectional and NYSPHSAA record time and an automatic All-American time. Teammates Chung, Ollie Engel, Nadecki and McHugh set the waters on fire, nipping a strong Pittsford team by less than a second.
AHEDI took 4th with Franks, Thayer, Scholz, Lee finishing with an All-American consideration time.
Scarsdale with Lambert, Manhiemer, Lee and Jiang took 6th while Clarkstown's Dwyer, Cortelli, Francis and Coleman 7th.
Fox Lane's Gourlay, O'Donnell, Brown and Morgan posted 24th place finish.
"This year was special for both the team and I since we were able to win for the second year in a row," Greeley Captain Hudson Chung said. "Especially being able to break a state record in my final year on the team was a moment I will forever cherish. I am excited  for what the future holds for the team and I know they can get the job done again next year."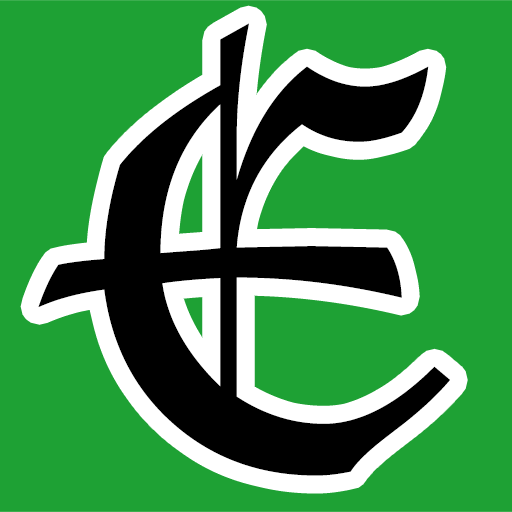 Examiner Media – Keeping you informed with professionally-reported local news, features, and sports coverage.