News Based on facts, either observed and verified directly by the reporter, or reported and verified from knowledgeable sources.
Greeley Gets Signature Win; Put Valley Topples Panas
We are part of The Trust Project
Tony Pinciaro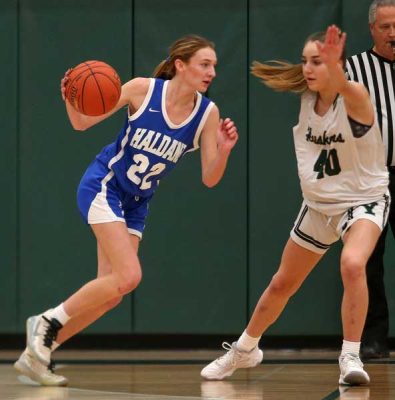 Senior Emma Rose saw it early in preseason.
"We realized we could be better than prior years and realized we could have a good record," said the four-year starter and captain of the HORACE GREELEY varsity girls' basketball team.
With the Quakers' 62-51 victory at perennial Class AA power Ossining, they are now 5-4 this season, surpassing their win total from last year.
In fact, Greeley is on pace to pass the team's best season, in recent memory, of six victories (2018-19 season). The Quakers returned a solid, veteran nucleus for coach and former Lakeland basketball great Sarah Schum which was one reason Rose, the lone senior on the team, was optimistic.
And, even though Greeley was .500 to conclude December, Rose felt the best was still to come.
"We were pleased with the fact that Clarkstown North beat us last year and we beat them by 19 this year," Rose said. "We also were in it with Rye and Lakeland, but lost steam at the end. I think something we wanted to work on going into January was finishing out games and that is something we did against Ossining."
Schum pointed out that Ossining made a few runs at Greeley, but her team remained composed and answered each Pride surge.
"We focused on playing our game the entire time and didn't change because of what they were doing," Rose said. "We have confidence in ourselves and moved on to the next play if they scored."
Greeley received a career-high 19 points from Allie Mosca. Bella Schulman added 14 points and Meredith Feiner had eight points and a career-best 18 rebounds. Caroline Negrin contributed seven points, six blocks, five steals, four rebounds and three steals. Rose, who averages 11 points a game and is the team's leading 3-point-shooter (29 this season), was held to a season-low four points as Ossining blanketed her.
Ossining's determination to shut down Rose showed that Greeley is a versatile offensive team as Mosca, Schulman and Rose average 11 points a piece.
"I just try to contribute on the court even if I am not scoring the basketball," said Rose, who had three assists and two steals. "I focused on getting the ball to my teammates and being a leader on the court.
Along with her team's composure, Schum was also impressed with Greeley's enthusiasm and drive.
"Our sideline energy from our bench and our JV team were the best I've ever experienced at Greeley," Schum said. "It was such a fun environment for the girls to compete in."
Greeley will dive into league play from here on in so opening with a victory was what the Quakers wanted.
"This win means a lot to us," Rose said. "Ossining is a great program with a lot of history and tradition. This game was a confidence-boost and really a showing of our ability to face adversity during Ossining's runs away on the road. We are definitely looking to keep the momentum from this game moving forward into the next week."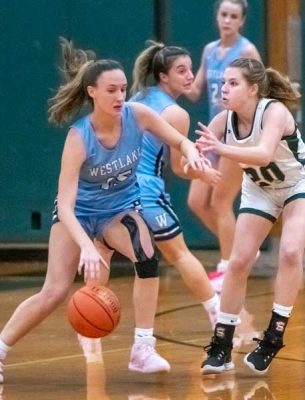 WESTLAKE improved to 8-1 with victories over Pleasantville (56-40) and a milestone for veteran Coach Sean Mayer over Rye Neck (65-38).
The Rye Neck victory was the 200th of Mayer's career.
"The game was even more exciting especially with Coach Mayer's 200th win," said senior and captain Allie Castellone, who scored a game-high 21 points against Rye Neck. "It was amazing to see the community come together and be there for him and our team.
"Coach's accomplishment is amazing and so great for our program. We are really excited to continue our season, especially with another league game coming up this week."
Mayer was touched by the outpouring of emotion on his 200th.
"It was a very special night at Westlake," Mayer said. "It was a packed house. The win vs. Rye Neck was certainly special for our program and I was very happy to share this milestone with so many people.
"My current team made the moment very special. I also had lots of former players, Westlake colleagues, administration, and my family and friends there, as well. I was very appreciative of all the support. After the game there was a nice tribute at half court with a plaque presented to me by Athletic Director Ms. Donna Pirro. My team had balloons and made posters for me as well.
"It was really a great moment and I am very proud to coach this great group of girls. Rye Neck coaches and players were also very classy after the game and during the postgame ceremony, which was very nice of them."
Maggie Plotkin and Brooke Pfeiffer scored 15 and 11 points, respectively, against Rye Neck.
Pfeiffer scored a career-best 19 points as the Wildcats opened league play with the win over Pleasantville. Castellone finished with 16 points and Toni Ann Mastracchio chipped in 12 points.
Ruby Donahue led PLEASANTVILLE with 15 points.
"One of our goals this season is to win our league again," Mayer said. "We got off to a very good first quarter led by Brooke Pfeiffer who scored 11 points in that quarter.
"Both teams were playing hard and making some good plays. It was a hard-fought road win against a hard-working Pleasantville team."
PUTNAM VALLEY remained on a roll and handed Panas its first loss of the season, 66-47.
Senior Eva DeChent continued her explosiveness with 36 points, 19 rebounds and seven assists for the Tigers (9-1).
"I thought we played well, at times," Putnam Valley Coach Don Hamlin said. "I think our defense is improving. Panas was down two starters. I feel it would have been a particularly tough game if they had them."
BRIARCLIFF swept Blind Brook (64-46) and archrival Pleasantville (72-51), raising its record to 5-3.
The senior tandem of Caroline Barbolato and Cat Carrafiello were the leading scorers in both games.
Carrafiello poured in 28 points and added seven steals against Blind Brook. Barbolato added 24 points, seven assists and four steals.
Barbolato took scoring honors against Pleasantville with 24 points and three assists. Carrafiello finished with 20 points, eight rebounds and five assists.
Megan Rafski led PLEASANTVILLE with 15 points.
"My two senior captains stepped up big in both wins," Briarcliff Coach Denise Hamlin said. "However, our supporting cast keeps fighting hard each day to get better. Riley Hite and Gemma Fante came off the bench to add a spark and Adrianna Scanga, Nico Vargish and Ava Makaron stepped up to contribute in each win."
WHITE PLAINS dialed up the defensive intensity in victories over Port Chester (72-22) and Ossining (66-25).
"Our defense was rolling, especially against Ossining," White Plains' Coach Benj Carter said. "Against Ossining, it caused them to turn the ball over which led to easy baskets. We controlled the whole game off defense."
Aliya McIver led White Plains with 18 points and nine rebounds against Ossining. Ineivi Plata added 17 points and five steals and Capri DeMara and Tess Haddad each had eight points.
McIver had a game-best 24 points against Port Chester. She also registered six assists. Plata finished with 19 points, five assists and seven steals and Sequoia Layne scored 13 points.
McIver is 49 points away from 1,000 varsity points.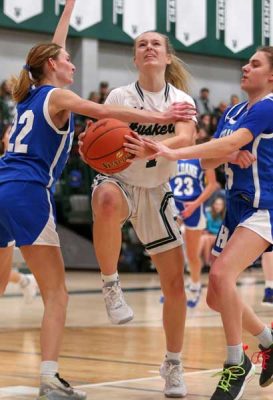 YORKTOWN began 2023 with wins over Yonkers (66-17) and Haldane (60-25).
Kaitlyn Judge paced a balanced scoring effort against Yonkers with 15 points. Kaitlin Meola and Lexi Livahdi each had 14 points and Sofia Boucher added nine points. Livahdi led Yorktown with 11 rebounds and Olivia Delgaudio grabbed eight rebounds.
Judge had a season-high 20 points and six rebounds against Haldane. Livahdi added 13 points and Caitlin Mulvihill chipped in seven points.
Carmela Cofini and Camilla McDaniel had eight points apiece for HALDANE.
MAHOPAC went 1-1 for the week and is now 7-2 this season.
The Indians defeated league foe Poughkeepsie, 75-39, but lost to league foe R.C. Ketcham, 50-42.
Caity Salon had 10 points and 10 rebounds and Fiona Kelleher added nine points and five steals in the victory.
Madysen Ford had a team-leading 10 points and Piper Klammer contributed nine points and five steals against John Jay-East Fishkill.
PANAS beat Brewster, 56-36, improving to 7-0.
Cadence Nicholas scored 22 points and grabbed six rebounds. Julia Gallinger had 18 points and 11 rebounds and Jill Cinquina added 10 points and eight rebounds.
The Panthers then lost their first game of the season to Putnam Valley.
John Jay-Cross River handed HEN HUD its second consecutive loss, 51-32, but the Sailors rebounded to beat Sleepy Hollow for the second time this season.
Hen Hud trailed John Jay, 23-16 at halftime, but the Wolves outscored the Sailors, 18-8 in the third quarter.
Kaitlyn Raguso had 22 points and 11 rebounds against John Jay. Madison Porter grabbed seven rebounds and Kayla McCarthy recorded six steals.
Hen Hud led Sleepy Hollow, 15-11, after the first quarter then limited the Headless Horsemen to nine points in the next two quarters.
Raguso scored 17 points and also had six rebounds and four steals. Freshman Kate Stratton added 12 points and five rebounds and fellow freshman Kayla Smith had nine points and five rebounds. McCarthy had three 5's – five points, five rebounds and five assists.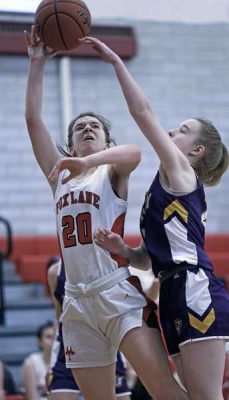 FOX LANE started 2023 with an impressive 71-24 win over Saunders as the Foxes played team basketball to the tune of 29 assists.
Morgan Clinton was one of three Foxes in double figures with a game-best 15 points. She also added eight rebounds.
Riley New finished with 10 points, eight assists and six steals and Maddie Broghammer also had 10 points and four rebounds and four assists. Kam Boniello scored eight points, Cora Moore had a team-leading 10 rebounds and Tess DiCarlo collected seven rebounds.
Grace Corelli scored a game-high 20 points, including six 3-pointers, as BYRAM HILLS beat Yonkers, 65-28.
Kelsey Vaquero scored seven points and the trio of Carmen Parrotta, Claire Verzello and Amy Gagliardi each had six points.
BREWSTER ran into a red-hot Panas team and the Panthers prevailed, 56-36.
"I was very happy with our effort against a very good Panas team," Brewster Coach Mike Castaldo said. "There were several times where Panas looked like they were going to run away with the game, but we responded well and had a few runs of our own.
"Cadence Nicholas was the difference-maker in the fourth quarter as she scored 16 of her 22 points, including four consecutive 3-pointers to seal the deal for them.
"I was also proud of our team. We were missing a starter and they were missing a starter. We found ourselves down six early in the fourth quarter. Panas is a great team and once they are fully healthy they will be a tough matchup for anyone."
Madison Dakin led Brewster (7-4) with 16 points and Olivia Frances each had 13 points.
LAKELAND had one game – a 47-40 loss to Pelham.
"It was a really close, exciting game until the end," Lakeland Coach Miranda Mangan said. "We just couldn't get our offense going in the fourth quarter and that hurt us."
Sarah Devane had a team-leading 15 points and Nichole Ljuljic added 13 points for the 5-3 Hornets.
CARMEL dropped a pair of games, falling to 3-6.
The Rams lost to Arlington, 40-28. Devin Fusco led Carmel with nine points and Maeve McGlynn added eight points. Carmel also lost to John Jay-East Fishkill, 71-26. Megan Whitford had eight points and Amelia Rosario contributed seven points.