Great Winter Dining Deals to Start 2014
By Morris Gut – As I eat my way across the greater Westchester culinary scene I come across some wonderful dining and nightlife deals that I would like to pass along to you. They are a delicious way to ease into 2014 while leaving some money in your wallet. You may want to check ahead with the restaurant to confirm.
New Happy Hours at Lombardo's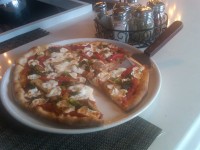 Partners Mario Lombardo and James Romanelli of Lombardo's, 1203 Mamaroneck Ave., White Plains, have been doing a bustling business since their opening last summer. They recently started a Happy Hour that is just as easy on your wallet as the rest of their reasonably priced Italian-American menu. Monday through Friday from 3:30 to 6:30 p.m. the house offers half-price appetizers, including their popular pizzette, and specially priced beverages and cocktails at the bar only. Fresh made starters and pizzette include: a stack of Zucchini Fritti served with marinara or fra diavolo sauce; Zuppa di Cozze, fresh cultivated mussels steamed in your choice of white wine garlic and herb broth, or served in a fresh garlic and crushed plum tomato brodino; Calamari Arrabbiata or Fritti style; traditional or Italian style Buffalo Chicken Wings; Baked Clams Oreganata; Italian Antipasto for two; Spuntino alla Lombardo, goat cheese and flame roasted peppers wrapped in prosciutto, drizzled with balsamic; and such shareable pizzette as the Vegetarian, with spinach, broccoli, flame roasted peppers and mushrooms topped with fresh mozzarella. Lombardo's is open seven days a week for lunch and dinner. Free parking. 914-615-9090, www.lombardospizza.com.
$28 Mondays and Karaoke at Don Coqui
Jimmy Rodriguez and his team at Don Coqui, 107 Mamaroneck Ave., White Plains, are now serving a new lunch menu and $28 Mondays. At lunch the house offers a selection of salads and sandwiches to go along with their regular menu of Puerto Rican and Latin specialties, including: Hearts of Romaine Caesar Salad; DC Triplets with pork, chicken and steak; Steak & Onion Sandwich; Roasted Pork Sandwich; and BBQ Chicken Sandwich. The nightlife schedule has also been updated. There is live Salsa entertainment Thursday and Friday and karaoke on Monday and Wednesday nights. Don't forget $28 Mondays when patrons get three generous courses of food for this special price, including their popular appetizer platter for the whole table. Don Coqui is open for lunch and dinner seven days a week from noon. Starters: $6 to $19. Main courses: $15 to $34. Lunch: $6 to $28. Bar/lounges. Cocktail menu. Bottles. Live music, dancing. Take-out. On and off premise catering for all events. Major credit cards. Municipal and valet parking. Proper casual dress. Reservations accepted; advised for larger groups. Don Coqui, New Rochelle, is located at 115 Cedar Street, just off Rt. 95. 914-648-4848, www.doncoqui.tv.
Prix Fixe Meals and Vintage Photo Gallery at La Riserva
Michael Vivolo, chef/proprietor of La Riserva Trattoria, 2382 Boston Post Road, Larchmont, is marking 36 years by serving new winter prix fixe lunches, dinners and Sunday brunch, along with a stunning photo gallery in the dining rooms. A three-course $12.95 daily lunch special includes soup of the day and crisp house salad along with a choice of such changing main courses as: Sea Bass Francese, Chicken Marsala, Loin of Pork Martini, Grilled Chicken over mixed greens, or Rigatoni with sliced sausage and tomato sauce. The new three-course prix fixe dinner includes choice of soup or fresh salad, choice of main course, house dessert and coffee. Entrée choices may include: Filet of Sole Francese; Pollo Verdura, sautéed chicken breast with white wine, tomatoes, zucchini and fresh mozzarella; Spaghetti con Polpetine, with meatballs and basil tomato sauce; Cozze e Vongole Fra Diavolo con Linguini, clams and mussels over linguini with spicy marinara sauce; Costoletta di Maiale Martini, pounded pork chop crusted with parmigiano cheese, white wine and lemon; and Salmon in Puff Pastry, with capers and chopped tomatoes. The prix fixe dinners come with a glass of wine or soda and are served Monday thru Friday from 4:30 to 6:30 pm. Cost is: $27.95 per person. Sunday brunch is $17.95. La Riserva is open for lunch and dinner 7 days a week. Private party room.  Free parking. 914-834-5584, www.lariservarestaurant.net.
Value Meals on the Harbor at La Piccola Casa
Proprietor/self-taught Chef Walter Ricci of La Piccola Casa, 410 W. Boston Post Road, Mamaroneck, is originally from Peru and had an Italian grandfather. He has worked many popular Italian kitchens in greater Westchester including the former Umberto's in Rye and Giorgio's in Port Chester which he ran for 10 years. Several years ago he moved La Piccola Casa from the old Le Shack location along Rt. 1 in Mamaroneck to refurbished quarters in the landmark DeLancey House where author James Fenimore Cooper lived for a time across from scenic Harbor Island Park along Boston Post Road. Ricci has premiered new value conscious winter meals at lunch and dinner. A three-course Fixed Price Dinner is now being served Monday through Wednesday. Included is choice of soup of the day or fresh house salad; choice of such main courses as Broiled Salmon Meuniere, Cappellini Piccola Casa, Veal Parmigiana, or Chicken Francese all served with side vegetable. Coffee and house dessert round out the meal. Cost is $21.95 before tax & gratuity. There is a daily $12.95 luncheon special as well. 914-777-3766.
Big Food at Gina Marie's Chianti
Chef/proprietor Paul Caputo of Gina Marie's Chianti, 174 Marbledale Road, Tuckahoe, opened a bustling ode to Italian-American cuisine served in generous style. You can get a Complete Four-course Lunch Tuesday through Saturday from 11 a.m. to 3 p.m. for $15.95. There is a four-course dinner special for $19.95 served Tuesday through Friday, and a Daily Five-course Meal for $30 per person with wine. Caputo previously operated Gina Marie's Bella Vita in Mt. Vernon. Over the years he has worked for a storied cast of kitchens from Rigoletto's and Amici's on Arthur Ave. in the Bronx to the original Valentino's in Yonkers. On one wall in the dining room is inscribed: "chi mangia bene, viva bene" (if you eat well, you live well). Chef Caputo has a history of serving big portions of fresh made-to-order food; 'family style' some call it. Plenty of doggie bags to go around. Gift baskets now available. 914-346-8844, www.ginamarieschianti.com.
Old Fashioned Burgers and Shakes at Jake's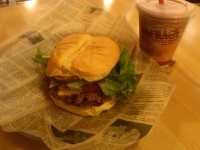 A couple of years ago Debra DeCrescenzo, a graduate of the original New York Restaurant School in Manhattan, partnered with Debbie Smith, a former Xerox executive, to open their own reasonably priced Jake's Wayback Burger restaurant, 357 N. Central Ave., Hartsdale, flanked by several of the busiest stores in Westchester: Verizon, H-Mart and the big Christmas Tree Shop. The Wayback Burger menu conjures up tasty memories galore, and young customers will love it too. Patrons can watch all the prep action through the glass counter. Signature Burgers (with two patties) include: Double Bacon Jake, with bacon, American cheese topped 'the Jake's way'; Cheeesy Burger, grilled buttered bun and American cheese; and BBQ Crunch Burger, with BBQ house made chips, American cheese and BBQ sauce. Customers can create their own burger: select a Jake Cheeseburger, Triple Cheeseburger or Junior Cheeseburger and choose from over 15 toppings. The hand-dipped shakes are great. Monthly specials. Senior meal deals Monday through Thursday 3:30 to 5:30 p.m. from $4.99. Open daily. Ample free parking. 914-437-8588, www.waybackburgers.com.
Morris Gut is a restaurant consultant and former restaurant trade magazine editor. He has been tracking and writing about the food and dining scene in greater Westchester for over 25 years. He may be reached at: 914-235-6591. E-mail: gutreactions@optonline.net