Great Gatsby Concert at Desmond-Fish Library Oct. 13
We are part of The Trust Project
On Saturday, Oct. 13 at 2 p.m. soprano Gabriela Mikova Johnson will present a concert of music from the 1920s and 30s at the Desmond-Fish Library located at 472 Route 403 in Garrison.
Songs by George Gershwin, Cole Porter, and other wonderful songwriters from the era will be included. Johnson will be accompanied by Martin Smith on the piano.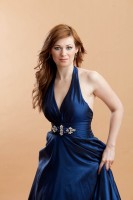 Johnson is a graduate of the Janacek Conservatory in Ostrava, Czech Republic, performing her senior concert with the Janacek Philharmonic Orchestra conducted by Georg Kughi. She has also performed Leonard Bernstein's Mass with the Brno Philharmonic Orchestra conducted by Milan Machek, concerts with the Philharmonic Orchestra of Teplice under the direction of both Tomas Kountnik and Charles O.Munroe, and a concert tour through Spain, Portugal, Germany, Belgium and Austria with the Municipal Theatre of Brno. She has also sung at Ostrava's Festival of Contemporary Music and at the Janackovy Hukvaldy Festival. She has performed as soloist at the Jiri Myron Theatre in Ostrava, the Moravian Theatre of Olomouc, and the Municipal Theatre of Brno, and for six years was engaged as soloist with the J.K. Tyl Theatre in Plzen.
This is just one of many events planned by the libraries and cultural organizations throughout Putnam County related to the classic book "The Great Gatsby." Copies of the book are available at the Desmond-Fish Library. For more information about the various events being offered, go to PutnamCountyReads.org .
In order to pay for expenses, the library is requesting a $10 donation from community members who attend the concert.
To reserve a seat, please go to Desmondfishconcert.brownpapertickets.com or to the library's webpage at desmondfishlibrary.org, or call the library at 845-424-3020.