Great Food Available at Fall Crafts at Lyndhurst
We are part of The Trust Project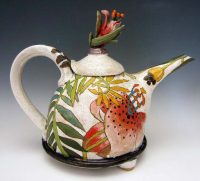 Fall Crafts at Lyndhurst may be best known for its handcrafted wares that are on display from more than 300 artists and artisans. But if you attend the three-day fair starting Sept. 16, make sure to bring a healthy appetite.
For the 32nd year, the show will be on the spacious 67-acre grounds of the Lyndhurst estate in Tarrytown featuring about 25 foodstand concessionaires and take-home gourmet food-and-beverage exhibitors. About 15,000 visitors are expected to attend.
Westchester 's largest brewery, the Captain Lawrence Brewing Company in Elmsford makes its first appearance at the fair. Two other concessionaires participating for the first time are Penny Lick Ice Cream of Hastings-on-Hudson and Twins BBQ Co. of Brookfield, Conn.
A pair of vendors absent at last spring's fair will return – Heitmann's Gourmet Nuts & Specialties, known for its glazed nuts and retro candies, and Whipped Up/Unbakeables, which sells edible raw cookie dough. Popcorn Man, a participant last spring, returns with a new name, Herold's Original Kettle Korn.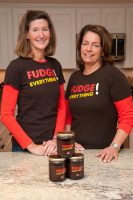 Gourmet Take-Home Food Exhibitors
Awesome Specialty. Dips and spreads include salsa mixes, soup and chowder mixes, muffin and cookie mixes.
Bella's Home-Baked Goods. Includes biscotti, butter toffee, cookies and brownies.
Dorset Maple Reserve. Bourbon barrel-aged maple syrup.
Dutch Desserts. Chocolate pies and fruit tarts. Pies also include Dutch apple, blueberry, red cherry, peach, raspberry, strawberry-rhubarb, pumpkin and pecan.
Fudge Everything! Chocolate sauce and sea salt caramel sauce.
Heitmann's. Glazed nuts include Bavarian, coffee and liquor. Also handmade licorice, gummies, salt water taffy, lollipops, candy corn and candied popcorn.
Herold's Original Kettle Korn. Formerly called Popcorn Man.
Highland Farm. Venison, steaks, roasts, chops, medallions and cutlets.
Hillrock Estate Distillery. Small-batch spirits, wine, bourbon and rye whiskey.
ImmuneSchein. Ginger elixirs. Organic ingredients include ginger root, wildflower honey, lemon juice, turmeric root and ceylon cinnamon.
JD Gourmet. Barrel-aged balsamic vinegar and olive oil blends from Italy, marinades and handmade pasta.
Kissed By The Sun Spice Company. All-natural Caribbean spices.
Maya's Jams. Artisanal jams.
Mostly Myrtle's. Gluten-free baked goods and coffee.
Nectar of the Vine. Wine frappe.
Pazdar Winery. Wine (including chocolate wine).
Really Good Fruit Spreads. Jams and jellies, including apricot, pineapple mango, strawberry, peach, blueberry, tart cherry, rhubarb strawberry and pear ginger.
Taste Artisanal Market. Cheese spreads and honey.
The Olive Oil Factory. Oils and balsamic vinegar.
Udder Ideas Fudge. Cream and butter fudge.
Warwick Valley Winery & Distillery. Red and white wine, port and dessert wine.
Whipped Up/Unbakeables. Edible raw cookie dough.
Food Concessionaires
Captain Lawrence Brewing Company. Pints of beer.
Everything About Crepes. Sweet and savory crepes and baguette sandwiches.
Greek Isle. Lamb and chicken pitas and Greek salad.
Penny Lick Ice Cream. Ice cream including pops.
Skinny Buddha Organic Kitchen. Soup and salad.
S&S Concessions. Sausage and peppers, hamburgers, coffee and smoothies.
Twins BBQ Co. Pulled pork, gumbo and barbecue.
Westchester-based Participants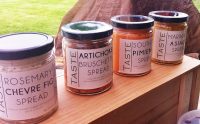 Westchester and Putnam are well-represented at Fall Crafts at Lyndhurst. Lynn Pullman (Bedford) offers wool blanket coats; Jim Dratfield (Carmel), a commissionable pet photographer with many celebrity clients; Susan Obrant (Cortlandt), intricate crocheted clothing; Soli Pierce (Cortlandt), painted wooden bowls; silver jewelry designer Suzanne Schwartz (Katonah); Libby Denenberg (Mamaroneck), mosaics; Loren Maron (Ossining), ceramic platters; photographer Andrew Lerman (Pleasantville) returns from a year traveling the world to accumulate new photos; silk scarf designer Jan Lichtenstein (Pound Ridge); Paula Gaynor (South Salem), leather handbags; Patricia Cavalieri (Tarrytown), glass boxes and frames; and Jacqueline Johnson (Yonkers), beaded jewelry.
Live music will be provided by the Lindsey Webster Band (dancing permissible).
One of the show's highlights is the Dale Rogers collection of large-scale whimsical outdoor sculptures. Activities include canoe carving demonstrations by Larry Benjamin and Shigumi silk scarf lessons by Patricia Disantis. Children's activities include face painting, storytelling and balloon animal making. There will also be stilt walkers.
Laura Kandel, the show's assistant director, said that representatives of Hudson River Sloop Clearwater will have a stand near the front entrance and sell raffle tickets. Founded in 1966 by folk music legend and environmentalist Pete Seeger, Hudson River Sloop Clearwater partners with schools and community leaders to raise environmental awareness and help protect the Hudson River.
The show benefits the National Trust for Historic Preservation, for which it has previously generated nearly $4 million. It is managed by Artrider Productions, a Woodstock, N.Y. crafts show producer.
Admission (cash or check only) for a weekend ticket is $12 for adults, $11 for seniors (62 and older) and $4 for children (6 to 16). Children under six get in free. Parking is free on site and at other nearby parking areas with frequent shuttle bus service.
The show opens each day at 10 a.m. and closes at 5 p.m. on Friday and Sunday and at 6 p.m. on Saturday.
For more information, call 845-331-7900 or visit www.artrider.com.
The Lyndhurst estate was once the home of railroad baron and builder Jay Gould. It is located at 635 S. Broadway.