Grapevine: The Tour de France and Wine Quaffing Are in Full Swing
We are part of The Trust Project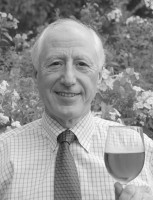 In last week's column, I presented a premise for celebrating this year's Tour de France. Being a wine-themed column, and France being a wine-centric nation, it seemed logical to tie the two together. What better matchup than a highly competitive, professional sport and a fun, relaxing spectator sport?
First the professional sport.
The race began last week, and after 21 stages, finishes in Paris on Sunday, July 24. The course is a grueling 2,200 miles through nine flat stages, one hilly stage, nine mountain stages (with four summits to reach), two individual time trial stages – and two rest days over its three-week span.
The route, and the local grapes, began in Normandy, wending its way south into the western Loire Valley (home to Sauvignon Blanc, Vouvray and Chenin Blanc), then Spain and Andorra along the Pyrenees. Back into France, it traverses the hilly terrain of Languedoc (blends of Grenache, Syrah and Mourvedre).
It continues east along the Mediterranean countryside into Provence (Rosé). The route then heads north, up the Rhone Valley (many blends, including Châteauneuf-du-Pape in the Southern Rhone and Syrah in the Northern Rhone) and the steep, arduous Mont Ventoux.
There is a brief ride into Switzerland before turning west again, heading toward the foot of Mont Blanc. The bikers eventually pass through the outskirts of the Champagne region, a first. The final stage is the celebratory ride into Paris along the Champs-Élysées.
Now the spectator sport.
There will be numerous opportunities to enjoy the race and commensurate festivities.
Over 12 million spectators will be watching and celebrating from the sides of local French roads during the stages. Other loyal French fans will be in front of wide-screen televisions at local bars, bistros and cafes. The casual fans, interested in spectacle and adrenalin rushes, will be focused on home television or tablet screens. Across the globe, 3.5 billion sets of eyes will be watching.
Excessive food and wine consumption by sedentary spectators may result in their gaining a few pounds. Not so for the Tour de France competitors. Each rider burns an average of 700 calories per hour on the course. To replenish their bodies and to maintain strength for the following day, a rider typically consumes between 6,000 and 9,000 calories per day.
As I pen this week's column, stage nine has concluded amidst rain and a hailstorm. A day of rest now awaits the riders. At this juncture, the leader – and overwhelming favorite – is Christopher Froome of Great Britain, the reigning champion. He has a 16-second lead over his nearest rival, Adam Yates (Great Britain) and a commanding 37-second lead over Joaquim Rodriquez (Spain) in fifth place.
On to representative wines.
I frequently receive samples of wines to consider for inclusion in a wine column. For this column, I enjoyed three wines that I felt warranted attention.
Stage 4 courses through the eastern portion of the Loire Valley. A refreshing, dry wine will quench the thirst of post-stage riders. The 2014 Domaine Desloges Touraine (Sauvignon Blanc) is spot on. It displays bright yellow color, with aromas of lemon zest, meadow and a streak of minerality. Its acidity pairs perfectly with local fish.
Stages 6 and 7 run onto the southwestern corner. On the way, riders skirt the Gascony region, home to white wines that refresh and invigorate parched palates. The 2015 Domaine du Tariquet "Classic," a blend of Ugni Blanc and Colombard, has aromatically pleasing notes of green apples and herbs.
Coming into Stage 14 this week, the Cotes du Rhone region provides world-class wines for road weary travelers. The 2013 Les Dauphins Côtes du Rhone Reserve Rouge (Grenache, Syrah, Mourvedre) is ruby red, with the fragrance of blackcurrants and just a hint of spiciness. Its refined, well-balanced structure, accompanied by a backbone of tannic strength and harmonious finish, emulates the upper echelon of riders.
Next week, get ready for the final stages and the grand celebration up and down the
Champs-Élysées with equally enthralling wines I will recommend.
Nick Antonaccio is a 40-year Pleasantville resident. For over 20 years he has conducted wine tastings and lectures. He also offers personalized wine tastings and wine travel services. Nick's credo: continuous experimenting results in instinctive behavior. You can reach him at nantonaccio@theexaminernews.com or on Twitter @sharingwine.