Grapevine: Planning the Meal For a White House State Dinner
We are part of The Trust Project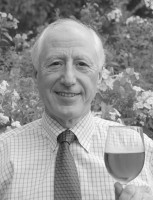 Globalization has homogenized much of the American landscape. From "American" cars incorporating foreign parts, to "foreign" cars incorporating American-made parts and assembled in the United States, a blurred line has developed over the past 50 years between American made and American inspired. An iPhone is American inspired but substantially produced and assembled overseas.
Another seeming anomaly is American cuisine. We've evolved from emulating the recipes and cooking methods of French and Italian chefs to creating a uniquely American cuisine based on the locavore movement.
It was with this global perspective that I read of the recent White House State Dinner for 350 guests held last week in honor of French President François Hollande. The White House decision on a theme for the State Dinner must have been rather vexing. What themed recipes and ingredients for each of the four courses? Which wines to pair with each course?
For the food: Should the inspiration be a French gastronomic icon, well known to Americans and French alike? Perhaps Auguste Escoffier, the early 20th century developer and proponent of modern French cuisine?
Or should the inspiration be an American whose skills were honed on classic French cooking and then blossomed into a successful and famous restaurateur? Perhaps Thomas Keller of The French Laundry and Per Se fame?
And what of the wines?
Should the inspiration be the classic French wines I've presented in previous columns? Bordeaux? Burgundy? Wines considered the epitome of fine dining accompaniments.
Should the inspiration be American wines emulating French blends and styles?
Or should the inspiration be American wines made by French immigrants, exemplifying the mosaic of our culture and history?
It seems the White House considered each of these options and designed a menu that attempted to represent an amalgam of ingredients and pairings that evoked the crux of America's French influence and its melting pot diversity.
Let me know what you think of the menu:
First course: American Osetra Caviar paired with quail eggs from Pennsylvania and a dozen varieties of potatoes from farms in New York, Idaho and California (but no Freedom Fries).
The wine: 2011 Morlet Family Vineyards, La Proportion Doree from Napa Valley. The Morlet family are fourth generation French winemakers who immigrated to the United States nearly two decades ago. The wine is a blend of classic Bordeaux white grapes.
Mission accomplished? French classic ingredients, deconstructed American style; wine crisp and complementary. Yes.
Second course: a salad of petite radishes and baby carrots on a bed of merlot lettuce and splashed with red-wine vinaigrette. (A "tribute" to the First Lady's White House Kitchen Garden plantings.)
The wine: a bit more of the La Proportion Doree.
Mission accomplished? The salad is perfect for the season and has a French aesthetic, but a separate American wine should have been featured. No.
Main course: Dry-aged rib eye beef from Greeley, Colo., paired with an artisanal Vermont blue cheese, charred shallots, oyster mushrooms and braised chard.
The wine: 2009 Long Shadows Vintners, Chester-Kidder Red Blend from Washington State. Winemaker Gilles Nicault is another transplanted Frenchman plying his trade in the New World since 1994, to critical acclaim. The blend of Cabernet Sauvignon (50 percent), Syrah (28 percent) and Petit Verdot (17 percent) pays tribute to Bordeaux with a uniquely American twist (Syrah).
Mission accomplished? Steak is not a French staple, but the blue cheese fits the bill. The wine pairing is par excellence and French inspired. Yes, by a small margin.
Dessert course: chocolate (from Hawaii) malted cake and Florida tangerines, served with vanilla ice cream from Pennsylvania.
The wine: NV Thibaut-Jannison Blanc de Chardonnay sparkling wine from Virginia. Winemaker and partner Claude Thibaut was born and raised in the Champagne region. He settled in Virginia in 2003 to produce a high-end sparkling wine.
Mission accomplished? A valiant effort to rival French desserts, but falls a bit short. However, sparkling wine paired with chocolate is always a winner. Yes.
Overall, post-dinner reports were complimentary. For social media devotees. Michelle's gown was fab and François came solo.
Nick Antonaccio is a 35-year Pleasantville resident. For over 15 years he has conducted wine tastings and lectures. He also offers personalized wine tastings and wine travel services. Nick's credo: continuous experimenting results in instinctive behavior. You can reach him at nantonaccio@theexaminernews.com or on Twitter @sharingwine.