Grapevine: Local Importer is Your Personal Wine Consultant
We are part of The Trust Project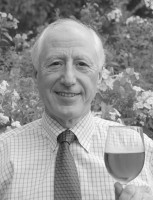 Last week I introduced readers to "artisanal importers" who have a passion for particular styles or regions and vigorously pursue the wines that express their passions. A particular artisanal importer's name on a wine's back label can compel you to purchase a wine with certainty, not with the usual element of chance. This week I feature one of the local Westchester-based importers.
Serge Doré has evolved from a restaurateur and corporate salesperson to an entrepreneurial spokesperson for artisanal producers. From the office of Serge Doré Selections in Chappaqua, he has pursued his passion for nearly two decades.
Recently, I sat with Serge and his assistant, Robin, at a cozy table at Le Jardin du Roi, a fitting dining venue around the corner from their office. I asked them to present wines that they felt represented their philosophy and embodied their passion for wines. Interspersed with the wine samplings, I learned more about Serge's passion for wine.
He hand-selects the winemakers he represents, from nine French regions, of which Bordeaux and Burgundy are the most expansive in his portfolio. These artisans are typically small, multigenerational farmers with unique wines and limited production, generally under 1,000 cases.
Notable quotes from Serge: "Wine is life."
"I focus on terroir, and the genius behind it. If my name is on the label, then you know my soul is in the bottle."
He has a new branding image: the icon of a wine drinker, glass of wine in hand, toasting a grapevine as if to say "Thank you for the gift of this wine." I agree: Vive le vin.
On to the wines we shared.
Château de Portets Grave Blanc, 2013: The combination of these three white grapes from the Grave subregion in Bordeaux, France is rather unique, and the results are impressive. The floral elements of Sémillon (60 percent) are countered by the freshness of the Sauvignon Blanc (30 percent) and the suppleness of Muscadelle (10 percent).
Château de Portets Grave Rouge, 2009: While the blend is typical of the region, the terroir and style are not. The Merlot (60 percent), Cabernet Sauvignon (35 percent) and Cabernet Franc (5 percent) combine to produce a full-bodied wine that is clean on the palate and reflects its micro terroir and its lineage. The Théron family has been plying this land for over 50 years. Their goal is to produce wine for the people. Mission accomplished.
Domaine Dupré Beaujolais-Villages, Vignes du 1940, 2013: The Dupré family produces only 300 cases of their 100 percent  Gamay wine, grown on nearly 75-year-old vines. This is a full-bodied wine redolent of plums and cherries, with a fine balance of fruit and acidity. Perfect for summer quaffing.
Domaine Fond Croze Cotes du Rhone Villages, 2011: The third generation of the Long family has a vision unlike most Southern Rhone winemakers. They produce wines from single varietals. This allows them to show the true expression of their vineyards and their terroir. First, I sampled their Grenache (850 cases) and then their Syrah (600 cases), both produced without a supporting cast. Each burst with fruits and a balanced complexity emblematic of the local terroir, lovingly nurtured in organic harmony with nature.
Adissat Lirac Cru du Rhone, 2011: What better way to emphasize your philosophy and passion for wine than to be actively involved in its ultimate expression? Doré's name appears on both the front and the back labels of each bottle of this partnership with two oenologist friends. The grapes — Mourvedre (80 percent) and Grenache (20 percent) – are cultivated in this tiny, little-known corner of the Southern Rhone Valley. Its deep purple color belies the rich, dark fruit and hints of chocolate wafting from my sampling glass. This was my favorite of the day; alas, only 400 cases of this gem were produced.
When we concluded our tastings, I realized the symbiotic relation between Serge and his producers. An American artisanal importer setting the stage for French artisanal winemakers. One feeds the passion of the other. Without one, the other could not exist. Ask for his wines at your favorite wine shop.
Nick Antonaccio is a 35-year Pleasantville resident. For over 15 years he has conducted wine tastings and lectures. He also offers personalized wine tastings and wine travel services. Nick's credo: continuous experimenting results in instinctive behavior. You can reach him at nantonaccio@theexaminernews.com or on Twitter @sharingwine.