Grand Prix New York Expands Game Room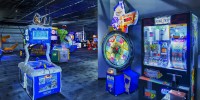 Grand Prix New York recently announced the expansion of its arcade, the third major addition to GPNY's offerings in two years.
The state-of-the-art arcade features 25 games for all ages, including favorites like Shootout the Star, Skee Ball and Big Bass. Additionally the GPNY facility includes go-kart racing, Spins Bowling, the Sim Room, billiards, mini-golf and a bounce castle.
The arcade is available for children's and adult parties and corporate events. A point system allows players to win and select a wide variety of prizes at different levels.
"Expansion of our arcade is just one more way we're enhancing the customer experience at Grand Prix," said Nat Mundy, vice president of marketing for GPNY and Spins Bowl. "Our goal is to bring the most exciting, innovative entertainment options available anywhere, right here to Westchester and the tri-state area. With the addition of Spins Bowl in 2011, the Sim Room earlier this year, and now the arcade all under one roof, there's no greater entertainment option for children, teens and adults – and no better corporate team building facility – in this region."
The GPNY arcade is open during the same hours as the main facility. During summer 2012, operating hours are Monday through Wednesday from noon to 10 p.m., Thursday from noon to 11 p.m., Friday from noon to midnight, Saturday from 9 a.m. to midnight and Sunday 9 a.m. to 9 p.m.
For more information about GPNY and the arcade, go to www.gpny.com or on Facebook at https://www.facebook.com/grandPrixNY.