Governor Proposes Aggressive Agenda
We are part of The Trust Project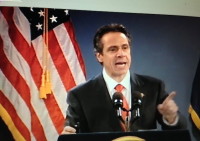 New York Governor Andrew M. Cuomo delivered the State of the State, "New York Rising," address last week declaring his intention to restore New York as the progressive capital of the nation.
Highlights of Cuomo's 2013 agenda include a high-tech economic development program, a tougher stance on public education, green initiatives, legislative advocacy for women's rights, stricter gun control and infrastructure corrections to deal with crisis situations.
Rebuilding of the Tappan Zee Bridge was high on the list of ongoing achievements.
Local officials' reactions to the initiatives were generally positive, all agreeing that Cuomo delivered the speech in a highly impassioned manner.
NYS Senator George Latimer (D-Rye) said the governor's agenda was very aggressive across a wide variety of issues. "I think he is on the right track in the vast majority. I support him on the gun control and women's issues. He wants to do some major things with education."
Latimer explained that the State of the State address is thematic and Cuomo did an excellent job of getting his points across. "Now we have to wait and see what the budget looks like and what the themes look like in practical terms. We have to read the actual legislation. I expect working with the Senate could be challenging. If we need to propose changes to the legislation, we will do that."
The governor's proposed 10-point Women's Equality Act seeks to shatter the glass ceiling by achieving pay equity for women, stopping sexual harassment in all workplaces, allowing for the recovery of attorneys' fees in employment, credit and lending cases, strengthening human trafficking laws, ending family status discrimination, stopping source of income discrimination, housing discrimination and pregnancy discrimination, as well as protecting victims of domestic violence by
strengthening order of protection laws and protecting a woman's freedom of choice by enacting the Reproductive Health Act.
During the presentation, Cuomo said: "We must pass a tough assault weapons ban. The rest of the nation will follow New York," he said.
Cuomo continued, "Guns have both a noble and a tragic tradition. Some weapons are so dangerous and some ammunition devices so lethal that we simply cannot afford to continue selling them in our state. …Our state has had a ban on assault weapons since 2000, but it is so riddled with loopholes and so difficult to understand that it has become virtually unenforceable."
Cuomo proposed tightening New York's assault weapons ban by eliminating large capacity magazines regardless of date of manufacture. He will also propose a single state standard to ensure that once a gun owner has obtained a permit, appropriate checks can be run to bar convicted felons and other prohibited people from possessing firearms if their status has changed. Firearm sales between private parties will be subject to the same background checks. There will be a ban on Internet sales of guns in New York.
Further proposed gun control legislation will require that when a mental health professional determines that a person is likely to engage in conduct that would result in serious harm to self or others, that risk may be reported and if it is concluded that a person is a threat to public safety, that individual's firearm license will be suspended.
This would be accompanied by tougher penalties for guns found on school grounds.
Assemblywoman Amy Paulin (D-Scarsdale), who has sponsored numerous bills relating to women's issues and gun control, said she was very excited about the governor's address. "I don't remember ever standing up to applaud so many times," she said. "I applauded for each of the 10 or more provisions within the Gun Control Act and the Women's Equality Act. I also strongly support campaign reform. To collectively get all of this done would be a lifetime achievement."
Paulin expects the gun control legislation may be finalized as early as next week.
Senator and Democratic Conference leader Andrea Stewart-Cousins (D-Yonkers) released a statement supporting the governor's plans. "The governor's 10-point Women's Equality Act will continue New York's proud tradition of progressive leadership and the State Democratic Conference will work tirelessly to have it passed as soon as possible," she said.
Concerned about the state of the economy, Cuomo described an economic development program to use higher education centers as job generators by transferring technological ideas from academia to the commercial sector and building companies around them.
The "Innovation Hot Spot" program would designate 10 higher education-private sector high-tech innovation incubators for start-up companies through a competition. The winning innovation hot spots would become tax free zones where start-up and other businesses would not be subject to business, real property and sales taxes. These hot spots would be supported with a $50 million fund and by an Innovation NY Network to bring the various segments together.
Another major economic program announcement includes the creation of a $1 billion green bank to leverage public dollars with a private sector match to spur a clean technology economy. At the same time, the NY Sun Solar Jobs program initiated in 2012 would be extended and a plug-in electric vehicle plan would make New York a leader in PEV technology accessibility. An energy czar, a new cabinet-level appointment made by the governor, will run these programs.
To support the economic development programs, Cuomo proposed a new approach to funding state colleges by changing the focus from providing vocational skills programs to linking job performance of graduating students with funding.
Upstate development support would focus on the agricultural industry and promoting the establishment of casinos to make the northern part of the state a destination location for tourists from downstate.
In a statement released after the governor's speech, County Executive Robert Astorino said: "The Governor deserves high marks for the progress made on the new Tappan Zee Bridge.  The proposal to designate 10 tax-free Innovation Hot-Spots is an exciting one and we believe that our North 60 bio-tech project is an ideal candidate. But the most significant aspect of the speech was what was missing. There was no mention of mandate relief, which is the biggest and most urgent problem facing local communities and schools all across the state. Nine current state mandates already consume 85 cents of every Westchester County property tax levy dollar. We need real relief now and there was no sign of it in the speech. Lastly, I'm concerned that the Governor's upstate casino proposal could harm Empire City in Yonkers."
White Plains Mayor Tom Roach said he saw the in governor's speech "the continuation of the strong leadership he has exhibited since taking office in bringing economic development to the state and changing the perception of New York as not being business friendly to one of positive growth and innovation, working with businesses. To have that kind of champion helps me at the local level, " Roach said.
Roach added, "I also support the governor fully on his gun proposals and have been championing the same with Mayors Against Illegal Guns on the local and national levels."
Regarding the quality of NYS education, Cuomo proposed lengthening the school year, either by extending the school day or cutting back on vacation time. He further recommended holding teachers and principals to higher standards by creating a bar exam and promoting high performance with a reward system.
Cuomo's progressive agenda, among other things, promotes raising the minimum wage from $7.25 to $8.75 an hour to bring it more in line with cost of living in the state and an aggressive campaign finance reform system that would require disclosure of political or lobbying contributions of more than $500 to be disclosed within 48 hours.
Cuomo closed his speech by saying: "Extreme weather is the new normal." Initiatives to fortify and upgrade the systems that paralyze New Yorkers when they fail during an emergency have become priorities. These include the redesign of the power grid and the structures that control it, such as making PSC more effective and abolishing the Long Island Power Authority and privatizing its activities. The creation of new building standards and development of a civilian emergency response corps were other proposals.
Assemblyman David Buchwald (D-White Plains), said he looks forward to working with the governor on these issues, as well as supporting important measures like an increase in the state's minimum wage, a strong recovery from Hurricane Sandy and sensible gun safety legislation.
Westchester County Board of legislators Chairman Ken Jenkins also was supportive of the governor's proposals. "I commend his willingness to ensure that public utilities improve their service for residents and business owners in the wake of severe weather events, and that all state agencies quicken their responses to those in need. Included in these improvements should be the burying of power lines in outage prone areas, for which I have proposed county legislation," Jenkins said in a prepared statement.
To view the full State of the State address visit www.governor.ny.gov